Wishlist Wednesday features books that have been on your wishlist for a long time, old or new.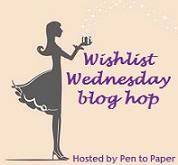 THE PERKS OF BEING A WALLFLOWER
Steven Chbosky
This haunting novel about the dilemma of passivity vs. passion marks the stunning debut of a provocative new voice in contemporary fiction: The Perks of Being a Wallflower.

This is the story of what it's like to grow up in high school. More intimate than a diary, Charlie's letters are singular and unique, hilarious and devastating. We may not know where he lives. We may not know to whom he is writing. All we know is the world he shares. Caught between trying to live his life and trying to run from it puts him on a strange course through uncharted territory. The world of first dates and mixed tapes, family dramas and new friends. The world of sex, drugs, and The Rocky Horror Picture Show, when all one requires is that perfect song on that perfect drive to feel infinite. .
Since I just mentioned it in my Waiting on Wednesday, I thought it high time to put this on my wishlist. I've been quietly obsessed with this book for a while. I've never read it. Sadly. Just, something about it tells me that I will love it. I'm good at knowing myself, and this book seems written for someone like me. It seems so hipster. And raw. And with some literary backbone to it. I can't wait to get a copy! Once I can afford it.