books by theme
In honor of Seraphina and Shadow Scale, it's dragon week! Which means I'll be discussing my favorite dragon books. Some are heavily dragon based, while others just feature cool dragons. Some are books I haven't read, but which are staples of the genre. What are your favs?
Click the book titles for my reviews or Goodreads!

Dragons
This book, besides being my second favorite book by Diana (first is Howl's Moving Castle, obvi) and one of my favorite books of all time, also introduces the coolest dragon ever invented. His name is Deucalion, and I want to be his best friend. The book itself is a hysterical fantasy cum fantasy parody in which a skeezy entrepreneur from Earth hijacks a magical world and forces them to play out yearly heroic quests against a fictional dark lord--all for the benefit of tourists, who are told that all their adventures are real.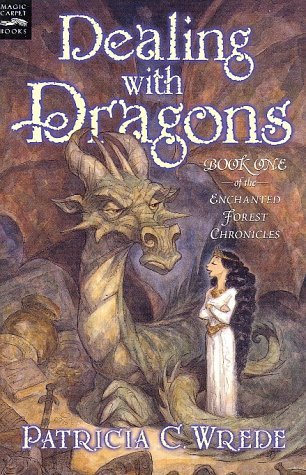 I haven't read this book, but I feel like I have, because my best friend outlined the entire plot for me in painstaking detail in an effort to convince me to read it. (Which I find totally endearing, because she's awesome.) So I have this one on good faith. It's a cute middle grade about a princess who'd rather be an adventurer. She runs away to seek excitement, and finds herself among dragons that come to seem like family.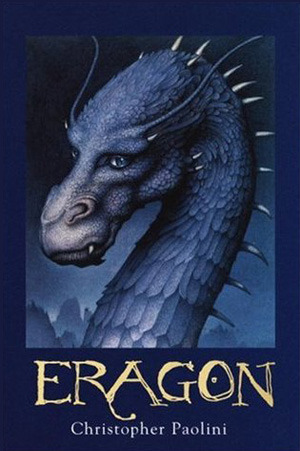 Despite the incredibly derivative plot and questionable plagiarism of Tolkein-ish names (not joking), I really did enjoy the first book. It's easy to get into, with a quick moving plot and delightful adventure. There are languages, which is awesome, and elves and dragons and all sorts of delightful creatures. Sapphyra the dragon is also delightfully adorable and fierce. If you're looking for an easy, fun fantasy with dragons, take a look.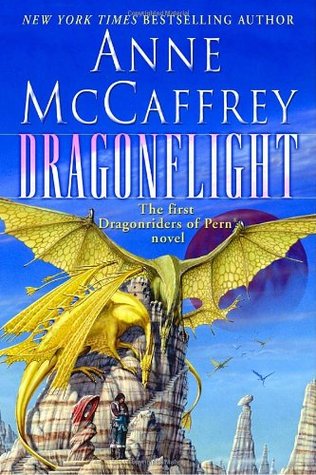 It's difficult to make a list of dragon books without including this series. I haven't read it myself (I know, I know, I'm terrible), but this list would be incomplete without it. If you're looking for a huge series that you can stay with for a while, check this out. The books chronicle the interactions of humans and dragons in a world threatened by a corrosive magical substance called Thread, by war, by the tumultuous courses of nations. The first book features a kitchen girl who befriends the queen of the dragons. Their friendship may be the key to saving the world from the evils of Thread.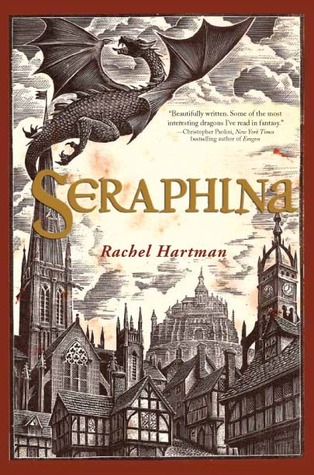 Seraphina has a timeless quality, an atmosphere of old world fairy tales. Seraphina herself is a strong-willed, clever heroine who seeks her own destiny but is also acutely aware of her impact on others. Her adventure winds through relationships with other complex, fascinating characters, as well as intrigue, scheming, and outright battle. There's never a dull moment, whether you're swooning over her banter with Kiggs or cheering her on as she investigates the threat to her people. Beyond the base plot, there is the deeply enchanting fantasy world, vivid with dragons and Saints, philosophers and politics. Hartman has envisioned each facet of her world so deeply that, as a reader, you can't help but find yourself living in it, if only for a moment. Seraphina is a tale that I'll return to again and again, each time finding something new to cherish.
Firelight is a perfect storm of romance, fantasy, and teenage angst, sure to blow you away. Jacinda is a strong female lead with a unique voice. Her struggles with a jealous twin, overprotective mother, and budding romance make her as relatable as any teenage heroine—even when she's transforming into a mini-dragon. Will is bold and sweet, with just a hint of tragic. Even when their romance comes off a little too strong, you want to root for them. The plot is full of twists—some easy to guess, some nicely surprising. Even where the romance and plot waxes a little generic, the fantasy world of the draki never does.
Kitten wins for being the cutest freaking dragon of all time. She's a foundling dragon rescued by Daine, probably the coolest heroine ever (although Alanna is definitely up there). Daine can speak with animals, a talent that gets her a job with the royal horsemistress. It soon becomes clear that her affinity for animals is downright magical. Her power leads her into an ages old struggle between the human and the supernatural. Before it's over, she'll have to contend with her mysterious past and powers she doesn't fully understand. And, of course, a flock of delightful dragons looking for their lost cub.
I'll hazard a guess that you might have heard of this one before. It's the first book in a sprawling, epic fantasy series surrounding the fate of the throne of Westeros, and the various people vying for it. Intricate, full of war and intrigue and death, it's a masterful series--if you're okay with the fact that it's quite dense. A big part of the books concerns dragons, being once used by the kings to take control of the seven kingdoms, now thought to be extinct. Until a young exiled queen discovers three dragons eggs that could change the fate of the world...
Like Anne McCaffrey, Robin Hobb is a giant of the fantasy genre--and thus included here, though I've not read her. She also happens to be a favorite of both Sarah J. Maas and Susan Dennard, so you really can't go wrong. This first book in her dragon series opens with a problem: though the dragons once saved the Trader people from destruction, time has passed and the Traders are now tired of caring for the descendants of their saviors. The story surrounds two women who are part of a ragtag group assigned to take the dragons north to their new home--not without adventures and revelations along the way.
What are your favorite books about dragons?