review
book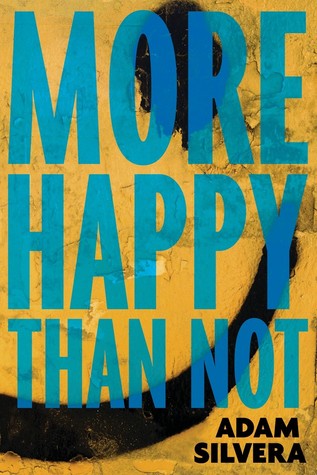 title:
More Happy Than Not
author:
Adam Silvera
pages:
304
format:
Paperback
isbn/asin:
978-1616955601
buy it:
Amazon
|
B&N
|
Goodreads
rating:
5/5 (from hated to loved) or 9/10 (all books I've ever read)
recommended for:
Fans of A.S. King (
Reality Boy
,
Glory O'Brien's History of the Future
), S.E. Hinton,
Eternal Sunshine of the Spotless Mind
, Chuck Palahniuk-light (as in, less sex and drugs and gore), and raw, emotional writing.
The Leteo Institute's revolutionary memory-relief procedure seems too good to be true to Aaron Soto -- miracle cure-alls don't tend to pop up in the Bronx projects. But Aaron can't forget how he's grown up poor or how his friends aren't always there for him. Like after his father committed suicide in their one bedroom apartment. Aaron has the support of his patient girlfriend, if not necessarily his distant brother and overworked mother, but it's not enough.

Then Thomas shows up. He has a sweet movie-watching setup on his roof, and he doesn't mind Aaron's obsession with a popular fantasy series. There are nicknames, inside jokes. Most importantly, Thomas doesn't mind talking about Aaron's past. But Aaron's newfound happiness isn't welcome on his block. Since he's can't stay away from Thomas or suddenly stop being gay, Aaron must turn to Leteo to straighten himself out, even if it means forgetting who he is.

Adam Silvera's extraordinary debut novel offers a unique confrontation of race, class and sexuality during one charged near-future summer in the Bronx.
in short
If you're looking for a contemporary with some bite and grit, a contemporary that will actually surprise you, then why haven't you bought this book yet!? Silvera's debut is darkly funny, poignant story of Aaron Soto, a boy who would do anything to forget. Sure, he has a "bombass" girlfriend, but he also tried to follow his father into the suicide club. Enter Thomas, a chill guy and self-proclaimed quitter. Their friendship rocks Aaron's little Bronx neighborhood in ways that he never anticipated. Aaron's feelings aren't welcome there, and the boy who made him remember how to live may be the one person he needs to forget. If the ending doesn't kill you, you have no soul. It's a growing up story with a near-future twist, written in a rough, witty prose that made up for some of the kinks.
in depth
a gritty boy growing-up novel
This novel reminded me immediately of The Outsiders by S.E. Hinton. If you've never read it, grab a copy immediately. It's about these sorta poor greaser kids growing up and making mistakes, and it gets really dark. More Happy Than Not has a similar atmosphere, modernized, a similar gravity, and a similar flair for nicknames: Me-Crazy, Fat Dave, Skinny Dave. You get it. It's about Aaron struggling to find himself in the wake of his father's suicide--and his own attempt. It's about he and his friends being stupid, playing dangerous games, and running their Bronx block. There's a hit of summer wistfulness to it, a nostalgia that's timeless. And like many such novels, most parents are absent. This is the land of the Lost Boys.
meets west side story romance
Until Wendy shows up. Kind of. You see, Aaron has a girlfriend. Genevieve. She's perfect in every way, and he loves her. He thinks. Until he meets Thomas. Thomas is aimless but somehow so certain. While Aaron's other friends, even his bestie Brendan, avoid their past hurts, Thomas gives Aaron the space to grieve. Their growing friendship is beautiful, poignant. I normally don't go for guys or girls giving up their friends for a crush, but this is different. Brendan and the other guys have built walls that keep Aaron trapped. Thomas takes a hammer to them and sets him free. Only being gay isn't kosher in the projects, and Aaron soon finds himself in a war between love and loyalty, on the precipice of losing everything.
with a hint of science fiction.
That's where Leteo comes in. This high-tech new procedure allows a person to suppress their unwanted memories. To forget. I had to kind of grit my teeth through the wishy washy science, but I liked the concept. Who wouldn't want this magic pill? Or would you? If it meant losing a piece of yourself? Leteo wasn't as well integrated in the first part as I'd like. In fact, I'd almost forgotten that there was any science fiction in this at all. However, its role in the second half is an emotional bomb drop well worth the suspended disbelief. With Leteo as a player in the game, Silvera is free to explore the repercussions of reinventing your past in a way much darker than Eternal Sunshine of the Spotless Mind.
the atmospheric minimalist writing
There's no sunshine here. Silvera writes with the minimalist, quasi-nihilist grit of Chuck Palahniuk and the emotional inventiveness of A.S. King--but in the end, he's his own voice. Or, he's Aaron's. I buy Aaron completely. His narrative is 100% messed up broke down teenage boy. It's full of choppy sentences, brutal analogies, and profanity. It's wonderfully raw. The dialogue could be a transcript of a high school summer, with an edge. Even more, it's important what Silvera chooses not to say. He doesn't badger you with philosophy and interpretations. He forces you to claw your way through and fill in his blanks.
helps to pack an emotional punch.
Because the writing steps aside and lets you think, the story is that much more powerful. It's a story about changing relationships, friends becoming strangers. It's a story about the terminal nature of first love. The relationship between Aaron and Genevieve was so damn tragic. They were perfectly disastrous together, because they were clawing at something that wasn't quite real. Despite their deep connection and friendship, Aaron wanted something else and Gen wanted something Aaron couldn't be. That's where Thomas changed everything. I can't properly explain the emotional impact of this book without giving it away. Suffice to say, the whole process of Aaron's decision whether to forget and what comes after is one of the sharpest, most raw things I've read. Silvera doesn't pull any punches, and leaves you reeling. In a triumphant or tragic way? I can't say.
in a sentence
Ultimately, the experience of reading this book was heartwarming and devastating. Aaron's summer is a downward spiral ending in a question mark, and you're just along for the ride.



5/5

(on a scale from hated to loved)

9/10

(against everything I've ever read)

will i read this author again? Yes. I have a feeling we'll be seeing great things from him.
will i continue the series?

N/A. And I dearly hope it stays that way, despite all the fans freaking out.
Note: I received this copy from the publisher. The price of the book and its origin in no way affected by stated opinions.