judge a book
by its cover
*
Covers are important. They're not the only thing that makes a reader buy a book, but it's the first thing a reader sees. A good cover gives you an idea of the tone and content of the book. A bad one has you thinking that a serious vampire story is a light-hearted contemporary.

So let's put covers to the test.

In this feature, C.J. asks her friends, coworkers, and random strangers a simple question:
What do you think this book is about?
But you can only look at the cover.
*
today's book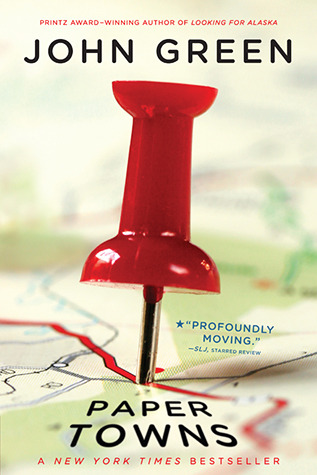 the guesses
Um, a fed up author gets one too many rejections & snaps. He goes on the road and starts killing random people he meets.
Paper Towns is about an agoraphobe who also has wanderlust, so he buys maps from towns all around the world and memorizes them in order to feel like he's visited them.
A lonely cartographer begins adding imaginary cities to his maps, and makes millions on the tour guides he writes for them.
Maybe a book about towns whose economic development is based on paper mills?
Or towns that only exist on paper and are actually shitty holes
[[C.J.'s comment: Seriously, are you kidding me? My friends are too smart sometimes.]]
A small town in Idaho is devastated when 90% of its population is wiped out by a giant thumbtack from outer space.
It looks like the sort of book that would involve child abuse or something and not have a plot, but I may be misreading it.
Somebody who has been away a long time and never thought that they would go back but some circumstance brings them back and they have to deal with whatever sent them away.
the truth
Who is the real Margo?
Quentin Jacobsen has spent a lifetime loving the magnificently adventurous Margo Roth Spiegelman from afar. So when she cracks open a window and climbs into his life—dressed like a ninja and summoning him for an ingenious campaign of revenge—he follows. After their all-nighter ends, and a new day breaks, Q arrives at school to discover that Margo, always an enigma, has now become a mystery. But Q soon learns that there are clues—and they're for him. Urged down a disconnected path, the closer he gets, the less Q sees the girl he thought he knew...




tell me what you think, and suggest the next book in the comments!