review
book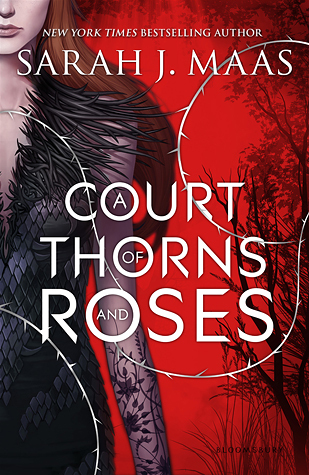 title:
A Court of Thorns and Roses
author:
Sarah J. Maas
pages:
416
format:
Hardcover
isbn/asin:
978-0062083326
buy it:
Amazon
|
B&N
|
Goodreads
rating:
4/5 (from hated to loved) or 7/10 (all books I've ever read)
recommended for:
For fans of Rosamunde Hodge (
Cruel Beauty
),
Lion Heart
by A.C. Gaughen, fairy tales, and magic. Readers looking for a NA that's different from the mold. Watch for: Sexual content.
When nineteen-year-old huntress Feyre kills a wolf in the woods, a beast-like creature arrives to demand retribution for it. Dragged to a treacherous magical land she only knows about from legends, Feyre discovers that her captor is not an animal, but Tamlin—one of the lethal, immortal faeries who once ruled their world.

As she dwells on his estate, her feelings for Tamlin transform from icy hostility into a fiery passion that burns through every lie and warning she's been told about the beautiful, dangerous world of the Fae. But an ancient, wicked shadow grows over the faerie lands, and Feyre must find a way to stop it . . . or doom Tamlin—and his world—forever.

Perfect for fans of Kristin Cashore and George R. R. Martin, this first book in a sexy and action-packed new series is impossible to put down!
in short
It seemed fitting to post my review of ACOTAR during Something Strange and Deadly week, given that Sarah and Sue are uber-besties. I will preface by saying: I have a huge blind spot when it comes to Sarah Maas. There were bits of this book that might have bugged me more if it had been another author. That said, ACOTAR stands solidly on its own. It's older than Throne of Glass, more mature, but without traipsing into drug store romance territory. The whole atmosphere is ridiculous with magic and fairy gorgeousness. You enter the world and immediately are steeped in its legends. You meet Feyre, a sharp-tongued badass who taught herself archery to feed her family. She's a firebrand and I love her. One wrong move has her whisked away to faerie-land to live with Tamlin, sizzlingly handsome faerie Lord and certified mental eye-candy. The relationship between them heats up slowly and burns bright. But there's a darkness as well, a plot that threatens both of their worlds. I wish that the evil part of the plot had been more prominent and taken up more space; I also found the ending turn a little eye-rolly. However, I still gobbled it up. ACOTAR transported me as a good fantasy should, and left me impatient for more.
in depth
in this loose beauty and the beast retelling,
Meet Feyre. Once a gentlewoman until her family's fortune was lost, she now lives with her father and two sisters in a quaint cottage. She's the definition of fierce. With her father a self-made invalid, her proud and idle sister Nesta, and her naive and lazy sister Elain, she's the family's sole hope. She's scrabbled her way from starvation to survival, teaching herself to use a bow, to trade, to adapt. So she's smart enough to recognize a fae when she sees one, and to kill it. In a twist on the original tale, it's Feyre whose crime has brought doom, and she is given a choice: death, or life in the faerie realm, away from all she's ever known. Obviously, she chooses the non-dead version. She's brought to a magical castle where the Beast's curse is reimagined: masks that can never be removed, and a sickness in his magic.
there are hearts at stake,
It's a little less obvious why Tamlin might need a girl than the Beast, but stick with it. You'll be rewarded with a sweet, slow-moving romance. I'll admit: I found Tamlin a little boring. He's broody, tortured, and has some magical rage issues that beg a nuanced dialogue around healthy relationships. I preferred Lucien, who's witty and petulant. But in the end, I came to appreciate Tamlin's kind and gentle nature. His romance with Feyre is built on a rocky beginning; she hates and fears him, and longs for escape. But of course, they come to know each other more deeply, to appreciate each other's quirks and passions. I'd have liked more conversations between them, but we do get plenty of steaminess. And I'll say it: I usually find sex scenes laughable, but Maas avoids ridiculous euphemisms and actually gives her steamy scenes some emotional power. In other news, I'm hoping that the Rhys thing doesn't become a triangle thing, because unbalanced power dynamics aren't sexy.
but also the fate of a magical world.
Alas, the lovers cannot be in peace, for there is a curse upon the Courts of the faerie land. Magic is becoming weaker and more unpredictable. Dangerous creatures lurk beyond their borders, creatures that feed on fear and soul. It soon becomes clear that the land is being corrupted from within--and its collapse could mean devastation for mankind. Feyre isn't complacent. She's reckless, for sure, but she's determined to find out what Tamlin can't tell her. Along the way she meets Rhys, a seductively wicked fae lord who may be her aid--for a price. Her curiosity leads her into a twisted game of intrigue, revenge, and evil. It's a thrilling mystery that kept me on my toes. It all leads up to a do-or-die moment, when Feyre must show her own power and become a savior.
there are a few instances of flimsiness.
I did have my issues. ACOTAR didn't feel as tightly plotted as Throne of Glass. Some of the character motivations seemed flimsy. There were also few positive female characters--at least not any who stuck around for more than a few pages. I really wanted more of Nesta and Elain, particularly as Nesta was so dynamic across the plot.
The villain, in particular, came off flat.
Not to mention a couple moments of victim blaming that made me squirmy. But my main disappointment was with the trials Fayre faces to save Tamlin. They were so freaking cool, but they came towards the end of the book. As a result, they felt rushed and I felt skeptical that so much had been accomplished so soon. Fayre
does
have a habit of doing crazy things that should probably kill her. But maybe the most frown-worthy part involved a riddle. I guessed the answer within the first two lines, so the final reveal was more meh than gasp-worthy.
even so, sharp and atmospherically written,
Despite these missteps, ACOTAR is a fabulous example of craft. Maas' writing has always had a fairy tale quality to it; that's used to advantage here, where everything she describes seems extra mystical and chilling. She's concocted a fabulous fantasy world. Her fae are old gods, held back from ruling humanity only by an ancient treaty. They live within seven courts--such as Dawn, Summer, and Night--that tensely coexist. For some reason, I really geeked out about the courts. It felt like a detail ripped from Grimm, but all Maas. This is also a dangerous world, and I would have liked to see more of it. There are nightmare creatures who lure you in with their seductive telepathy, goblins and ghouls, man-eating monsters who foretell the future. It's a fairy land with a deliciously dark edge.
it's the new adult we've all craved and deserved.
I usually avoid new adult. I have it on good faith that they're all much the same. College girl meets boy. Hatred. Brooding. Sexy times. OMGLOVERAINBOWS. It's just stupid. But many adult books deal with marriage and kids, things I can't yet relate to. So it's about freaking time that new adult diversified, just as young adult has done. With ACOTAR, you get all the steam and romance, but you also get an exciting adventure story. I can only hope that Maas' success will pave the way for other NA with actual plots.
in a sentence
A Court of Thorns and Roses is a fairy tale with the volume turned up: more dangerous, more romantic, more seductive. It's yet another example of Maas' enthralling imagination.
Note: I purchased this copy. The price of the book and its origin in no way affected by stated opinions.