review
book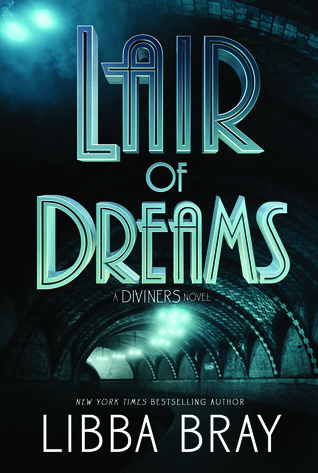 title:
Lair of Dreams
author:
Libba Bray
pages:
702
format:
Paperback
isbn/asin:
978-0316126045
buy it:
Amazon
|
B&N
|
Goodreads
rating:
5/5 (from hated to loved) or 8.5/10 (all books I've ever read)
recommended for:
For fans of
Something Strange and Deadly
by Susan Dennard,
Public Enemies,
anything Cat Winters (e.g.
In the Shadow of Blackbirds
), or good old-fashioned ghost murder stories.
After a supernatural showdown with a serial killer, Evie O'Neill has outed herself as a Diviner. Now that the world knows of her ability to "read" objects, and therefore, read the past, she has become a media darling, earning the title, "America's Sweetheart Seer." But not everyone is so accepting of the Diviners' abilities...

Meanwhile, mysterious deaths have been turning up in the city, victims of an unknown sleeping sickness. Can the Diviners descend into the dreamworld and catch a killer?
in short
I was lucky enough to fight through the BEA chaos and come out relatively unscathed, with a copy of Lair of Dreams in hand. It's a mammoth of a book, over 600 pages and still somehow not long enough. I had a rockier start with it than with The Diviners, mostly because the main story centers not around Evie and the usual suspects, but around Henry and our newest Diviner, Ling. I wanted more Evie and Memphis and I had to wait a little for their stories to build. But once I connected with Henry and Ling (who is now a favorite!), it was smooth sailing. Bray expands her already thrilling world with the mythology of the dream walkers and a strange sleeping sickness ravaging New York. Evie is a famous seer. Sam is devilishly dashing as always. The stakes are higher than ever as Diviner fever sweeps the city and the mysterious man in the stovepipe hat looms on the horizon. It's a dark, magical adventure with an explosive ending. Give me book three now! Please?
in depth
as darkly entrancing as its predecessor,
Everything I loved about The Diviners was back with bells on. Lair of Dreams nails the gritty 1920s style and delves deeper into the underbelly of history: the worker's unions, the racial prejudice, the iron grip of the crime bosses. In this New York, there's a strange sickness causing mass hysteria. People are falling asleep, and they're not waking up. They all go the same way: with a seductive voice that begs them, Dream with me... In the background, the dangerously powerful man in the stovepipe hat inches closer, bringing with him an unknown terror. The whole atmosphere is a mix of nostalgia and horror-movie uncanniness. Bray's prose is as lush and poetic as ever, full of rich description, swoony banter, and a sneaky mystical quality that keeps your heart in its tense deathgrip until the end.
this sequel explodes the diviners' universe.
What you knew of the Diviners in the first book is only the tip of the iceberg; Naughty John was only the beginning.
In another corner of the city, Henry, Theta's best friend and the Follies pianist, meets a girl in a dream. A girl named Ling who can also dreamwalk, and even change the dream world. On the radio, Evie the Sweetheart Seer dazzles New York with her fortune telling and tries to stay far away from her uncle Will and his creepy museum. But she can't really avoid Sam, whose search for his missing mother unveils a dangerous government project with the Diviners in its crosshairs. In Harlem, Memphis tries to hide both his relationship with Theta and the return of his healing powers, while his brother Isaac is unwittingly in the grip of a soul-sucking demon dressed as a friend. And Theta herself is finding her own powers harder to hide, and her past impossible to hide from. Oh, and I guess Jericho does stuff. (*Clearly does not have opinions about the whole love triangle thing.*)
it's a sprawling, ambitious story
There are so many threads to follow. It's a Game of Thrones-worthy epic, with plots intersecting and unfolding until your brain hurts. It's a good hurt. Henry and Ling's escapades take center stage.
Their trips into the dream world are gorgeously enchanting and full of mystery: Has Henry truly found the dreams of his former lover? Can they reconnect? Is the new dream walker Wei Mai in danger? Is the sleeping sickness on their heels? My second favorite plot line was between Sam and Evie. They're thrust into a media romance by accident, but Sam's feelings were never for show, and Evie finally begins to appreciate Sam's wolfish charm. Their clumsy sort-of-not-faux-romance made me giddy--so much snarky flirty banter! Memphis and Theta continue to be ridiculously adorable. There's no time to catch your breath. 600 pages seems like 60 by the time you're done.
that leaves you clawing for more.
The problem with a book this ambitious is that there's never enough time. Lair of Dreams left me with so many questions and wants. I wanted to know what Will was up to. I wanted more of Mabel (poor Mabel, who always gets shoved aside!). I wanted Memphis to watch his brother more closely. I wanted Evie to freaking realize that Sam > Jericho and they should just get together already. And I really, really wanted to figure out what exactly is going on with the man in the stovepipe hat! He remains maddeningly enigmatic in spite of his looming presence throughout the book. I still don't understand his endgame; I only have a free-floating, unspecified feeling of dread. The plus side of all these questions: there's no way I'm missing out on book three! Bray knows how to suck you into her world and not let go. And despite the loose ends, despite the slight messiness of the plot, Lair of Dreams still delivers a thrilling supernatural adventure of improbable proportions.
in a sentence
Lair of Dreams is a sprawling supernatural epic. With all the glitz and glamour of The Diviners, it amplifies the mystery, ups the intrigue, and leaves you breathless.
Note: I received this copy in exchange for a review. The price of the book and its origin in no way affected by stated opinions.