review
book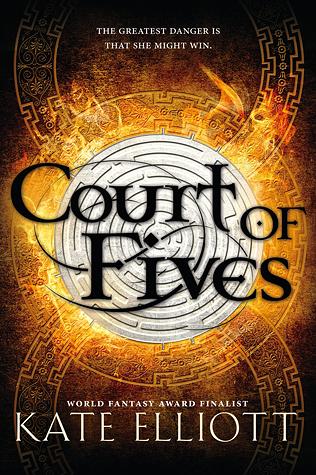 title:
Court of Fives
author:
Kate Elliott
pages:
448
format:
Paperback
isbn/asin:
978-0316364195
buy it:
Amazon
|
B&N
|
Goodreads
rating:
5/5 (from hated to loved) or 8.5/10 (all books I've ever read)
recommended for:
For fans of
The Winner's Curse
by Marie Rutkowski,
Shadow and Bone
and
Six of Crows
by Leigh Bardugo,
Throne of Glass
by Sarah J. Maas, or anything Tamora Pierce.
In this imaginative escape into an enthralling new world, World Fantasy Award finalist Kate Elliott begins a new trilogy with her debut young adult novel, weaving an epic story of a girl struggling to do what she loves in a society suffocated by rules of class and privilege.

Jessamy's life is a balance between acting like an upper class Patron and dreaming of the freedom of the Commoners. But at night she can be whomever she wants when she sneaks out to train for The Fives, an intricate, multi-level athletic competition that offers a chance for glory to the kingdom's best competitors. Then Jes meets Kalliarkos, and an unlikely friendship between a girl of mixed race and a Patron boy causes heads to turn. When a scheming lord tears Jes's family apart, she'll have to test Kal's loyalty and risk the vengeance of a powerful clan to save her mother and sisters from certain death.
in short
I thought I'd never find an equal to The Winner's Curse. I was wrong. Court of Fives is a gripping start to a remarkable fantasy saga. It follows Jes, the illegitimate, dark-skinned daughter of a Patron general and a Commoner woman. Her sisters worry that they will never be allowed to marry a high-born man because of their blood. Jes only wants to run the Fives, a competition of athletics and strategy that can exalt even a low-caste girl. Everything changes when the family's patron dies. Jes' father marries a Patron woman to save his position, leaving Jes and her family destitute. But her father's new patron has seen her skill in the Fives, and wants to use it to glorify his family. In the process, Jes befriends and falls for a highborn boy. Their romance is dangerous, but Jes' plan to save her family from the lord's wicked whims is deadly. It's a beautifully written, intricately crafted tale of intrigue, romance, and family, a tale that examines the ugly truths of an unequal society. It keeps you breathless until the final mindblowing page.
Incidentally, The Book Smugglers has an interview/giveaway with Kate Elliott. Check it out!
in depth
in a rich fantasy world where fate is unalterable,
Elliott has fashioned a truly unique world, one built on the foundations of the familiar but developed into something new and astounding. In her world, there are Patrons, white conquerors from across the sea. Their base is somewhat Greek, and their society is founded on rank, reputation, and unshakable deference to the king and the oracles. Beneath them are the Efeans, black natives of this land, not enslaved but still subjugated in a caste system that keeps them poor and apart. Their religion is of magic, of the earth. It's a world where dead men walk themselves to their graves. Where oracles are walled into tombs. Where the only thing cementing the two castes together is the competition of the Fives. Elliott's world feels so rich and layered that I could imagine myself into it. I only wished that we'd gotten a more thorough description of Jes running the Fives early on; her first run is bare-bones.
where people must wear masks,
The Fives is Jes' passion and downfall. Her family walks a thin line. Her father is a low-born Patron who rose through skill and luck to military glory. Her mother is a beautiful Efean woman whom he can never legally marry, his four daughters illegitimate and, to Patron lords who kill their daughters to make room for sons, embarrassing. The treatment they receive from Patrons, especially Lord Gargaron (I cannot express my loathing for this man in words), is palpably horrific, skin-crawling. At a time when racial disparities in the States are a hot topic, Court of Fives makes you feel sharply the shame and pain of being held apart. Elliott's rich, emotional writing, reminiscent of Marie Rutkowski's ornate prose, brings Jes' world gorgeously and viciously to life.
the only thing deadlier than playing the game
Jes' family is always near disaster. Their father's patron is benevolent and tolerates Esladas' "eccentricities." His death means Esladas' ruin, unless he agrees to Lord Gargaron's plan: disavow his family, marry Gargaron's niece, and indenture Jes to Gargaron's Fives team. Reading these bits was emotional torture, and the tension never lets up--because one wrong move could destroy what's left of Jes' family. Finally living her Fives dream is exhilarating and can help her support her family, but Gargaron can crush her whenever she wants. And when Jes becomes closer to Kal, Gargaron's charming and open-minded, if not somewhat naive, nephew, her heart threatens to bring down his wrath. Their romance is honey-sweet, starting with a tentative friendship and building through mutual respect. It's a rare light in Jes' harrowed life.
is trying to unravel it.
Yet, Jes begins to realize that her tenuous happiness is built of glass and sand. Secret wars are being waged amongst the patrons, battles fought with smiles and intrigue. Gargaron wants to raise his family's status, and he'll destroy anyone who doesn't fit his perfect world. When Jes' family is in danger, Jes and Kal launch a desperate, dangerous plan to save them. Their plan risks destroying not only themselves, but Jes' mother, sisters, and even father. The second half of the novel is a daring rescue mission steeped in plotting and narrow escapes. In saving her family, Jes and Kal discover the secrets and magic bubbling beneath the city's surface, ready to erupt. It's tense, almost thriller-like, but with a solid foundation of good characters and good writing. And hanging over your head is the frightful dilemma: in getting everything she ever wanted, Jes may lose everything she's ever had.
Tread lightly.
If you find, in the course of reading this book, that your knuckles are white and you've been grinding your teeth, you aren't alone. Elliott's book will easily make my favorites for this year. Lush and tightly plotted, it's the kind of story that owns you, body and soul. And that ending! Oh my freaking god.
in a sentence
Court of Fives is a tightly plotted web of adventure, romance, magic, and intrigue wrought in beautiful prose. It'll suck you in and leave you breathless.
Note: I received this copy in exchange for a review. The price of the book and its origin in no way affected by stated opinions.