review
book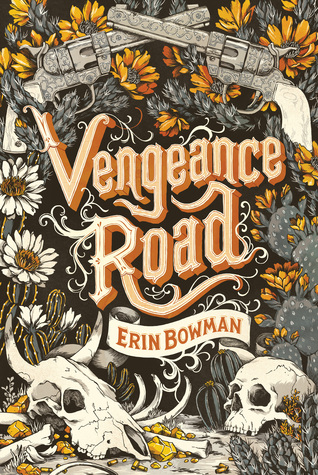 title:
Vengeance Road
author:
Erin Bowman
pages:
336
format:
Paperback
isbn/asin:
978-0544466388
buy it:
Amazon
|
B&N
|
Goodreads
rating:
4/5 (from hated to loved) or 7/10 (all books I've ever read)
recommended for:
For fans of old-school Westerns, swashbuckling sort of adventures, and gritty history.
The Assassin's Curse
by Cassandra Rose Clarke and
Six of Crows
by Leigh Bardugo.
When Kate Thompson's father is killed by the notorious Rose Riders for a mysterious journal that reveals the secret location of a gold mine, the eighteen-year-old disguises herself as a boy and takes to the gritty plains looking for answers and justice. What she finds are devious strangers, dust storms, and a pair of brothers who refuse to quit riding in her shadow. But as Kate gets closer to the secrets about her family, she gets closer to the truth about herself and must decide if there's room for love in a heart so full of hate.

In the spirit of True Grit, the cutthroat days of the Wild West come to life for a new generation.
in short
I have a confession to make: I don't like Westerns. Never been interested in that part of Americana. Honestly, anything pre-1870s America is usually off my radar. But I love and trust Erin Bowman, and so I decided to branch out of my comfort zone. And she didn't fail me. Vengeance Road is a cinematic thrill of a book. It starts right off with Kate's father buried, and Kate on her way for revenge, and doesn't let up. While I did get a little sick of the Old West slang (I tried to like it, I tried!), Erin's writing is general is sharp, witty, and vividly imaginative. She also doesn't pull any punches. There's murder. There's backstabbing. There's racism (1800s, remember!). Kate isn't exactly a soft-hearted, noble flower. And you know what? It was fan-freaking-tastic. I had a few issues with the ending from a character development perspective, but on the whole, this is a fabulous adventure story.
in depth
it's a rip-roaring western adventure
This would make a kickass movie. It's pretty much nonstop action and adventure, with a nice thread of romance, too. Kate knows that Waylan Rose murdered her father. She plans to kill his mean dead in return, one by one. But things get twisted when she learns what her father was killed for--a map to a gold cache like no other. She hooks up with the Colton brothers, motivated by loyalty to her Pa--and gold, of course--and sets off to find Rose and the gold. Trouble's always at their heels, and their journey is full of horse chases, shootouts, saloons, escapes, and enough twists to keep you guessing. I didn't actually see the key twist coming, and it was so freaking clever.
with complex, spunky characters,
Kate is a spitfire. She's feisty, stubborn, reckless, and brave (and also half-Mexican, photoset creators!). Her friends call her out multiple times for letting revenge get to her head, and she too realizes the unintentional destruction her quest has caused. She grows, learns. The Colton brothers are also nicely surprising. There's Jesse, old-souled, over-protective, and smart, but also hotheaded and careless. Will is flirtatious and easygoing, fond of women and alcohol, but has a surprising inner quietness and good sense. They feel like real people. Then there's Liluye, who is freaking awesome. She's sarcastic and doesn't bow at Kate's feet just for one good act. She knows her shit, and she's so kind. And the gangsters? Well, Waylan Rose is pretty much what you'd expect. Very punchable.
a raw look at history's scars,
Erin doesn't tiptoe around the past or glorify it uncritically in the way of so many Westerns. She makes it clear right off the bat that this is a rough-and-tumble, dangerous, precarious sort of living. Her characters have very un-modern views about Native Americans, Mexicans, and women. It's tough to read, but I appreciated the devotion to reality. So many authors give their characters 21st century sensibilities so you'll like them. It's kind of a cop-out. Now, Erin's characters aren't unrepentant bigots--they do develop some cultural understanding--but they're not saints either. Their actions make you uncomfortable. It's important to feel uncomfortable sometimes. My one hang-up was Liluye. Maybe I'm over hung up on this, but her character and tribe felt a little "minority there to make the white people feel better cause now they have a minority friend". But I do know that Erin did a lot of research into the Apache, so I appreciate the dedication to accuracy rather than caricature.
and a gritty, cinematic style.
Bowman writes things into existence. When you read her words, you can see the golds of the sunset and the barren landscape. You can feel the gritty dust almost until you sneeze on it. You can taste the tobacco, sweat, and blood. It's so easy to imagine yourself into her world. She also has a flair for the dramatic that really, truly would make a great movie. If you're gonna have a chase scene, why not have it across the rooftops of a burning trading town? She makes you feel every cut, every bullet. And she makes you feel feelings, because she is not nice to her characters. This is a dangerous world, and she doesn't let you forget it. One scene in particular called up a few tears, not gonna lie. I will also say, t
he ending killed me a little. There's a character who seems to grow so much, then totally punks out, like they haven't learned
anything!
I wanted to slap them, and the reaction to their attempt at reconcile is a little too forgiving. But maybe that's just life in the West.
in a sentence
Vengeance Road is a cinematic thrill-ride that combines the adventurous spirit of old time Westerns with the brightest and darkest parts of the human spirit.
Note: I received this copy in exchange for a review. The price of the book and its origin in no way affected by stated opinions.