review
book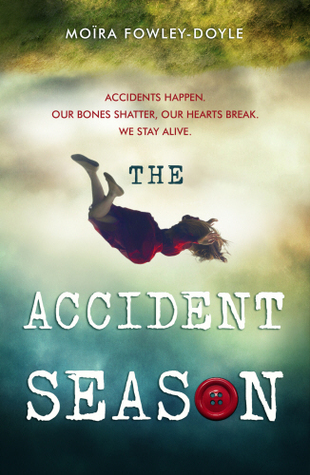 title:
The Accident Season
author:
Moira Fowley-Doyle
pages:
280
format:
Paperback
isbn/asin:
978-0399171611
buy it:
Amazon
|
B&N
|
Goodreads
rating:
5/5 (from hated to loved) or 10/10 (all books I've ever read)
recommended for:
Fans of
We Were Liars
by E.L. Lockhart,
If You Find Me
by Emily Murdoch, and other darkly beautiful stories with a little bit of magic.
It's the accident season, the same time every year. Bones break, skin tears, bruises bloom.

The accident season has been part of seventeen-year-old Cara's life for as long as she can remember. Towards the end of October, foreshadowed by the deaths of many relatives before them, Cara's family becomes inexplicably accident-prone. They banish knives to locked drawers, cover sharp table edges with padding, switch off electrical items - but injuries follow wherever they go, and the accident season becomes an ever-growing obsession and fear.

But why are they so cursed? And how can they break free?
in short
This book went from BEA afterthought to one of my absolute favorite books of the year. And possibly forever. If the premise of The Accident Season sounds a little fantastical . . . well, that's because it is. It's magical realism at its finest, toeing the line between fantasy and contemporary and nagging you with that otherness of a dream. It's a book of "maybes." Maybe there's a ghost. Maybe Cara's family is cursed. Maybe there are supernatural forces at play. Maybe it's all just an elaborate set of coincidences. This mystical backdrop and Fowley-Doyle's poetic writing sets the stage for a story of friendship, family, and wounds that run deeper than the cuts and scrapes of an ill-fated October. It's about the secrets that linger in an old house on a moonlit night. And it's simply beautiful.


in depth
I admit, I was skeptical. I was expecting something much more hokey paranormal when I read the description. So The Accident Season was a surprising punch to the gut. At its heart are the characters, my beloved. Cara is our narrator. She's sarcastic and clever, a little shy, not quite as lightbulb-bright as she wants to be, and skeptical of the family superstitions. Alice is her biological sister, older and a little more cynical, with a deep wiseness and sadness--and a hot older boyfriend. Sam is their stepbrother--not their brother--and he's ridiculously, schoolgirl-crushingly charming. He's a grin with an undercurrent of rage and loss, because his father left them all one day years before and never came back. Their mother is a nervous wreck who makes them all wear three layers during Accident Season. Cara's best friend, Bea, is a redheaded self-proclaimed witch who shines with her own sun.
Then there's the mystery. For years, Octobers have meant disaster for Cara's family. It's when her father died. It's when she nearly drowned. It's when Sam's father left them. It's a month of those big disasters, but also smaller disasters: cuts and bruises, broken arms, car accidents, near misses. Cara doesn't quite believe in magic, but she can't shake the haunted cast that infuses every October. And this October seems especially fraught. There's a chill to the air, a series of near-fatal accidents, a missing girl whom no one seems to remember, and a web of secrets that Cara is only beginning to unravel. All she wants to do is prove the Accident Season a fiction, but her certainty is shaken by the strange coincidences in her path.
Is it real? Are they just coincidences, the disappearing shops, the ghost girls, the puppets in the trees? Cara doesn't know, and neither do you, as the reader. Fowley-Doyle masterfully weaves in just enough doubt that you're never quite sure what to believe. It's an uncertain, tense feeling that I loved, and it propelled me through the book. The word "atmospheric" has never applied so well. The Accident Season has an eerieness to it. Reading it, I felt electrified by a mix of unease and anticipation, an otherness, a nostalgia I couldn't quite identify. The surreal, dreamlike feel is coaxed into existence by Fowley-Doyle's lyrical writing. And though I feel "lyrical" has become a code-word for "writing that's actually good", I'd like to reclaim the word for this book, because her writing is truly lyrical. It's poetic, song-like quality seems to come from a story long forgotten, while still feeling grounded in Cara's reality as an awkward teenage girl.
The mystery is only half the fun of this book. It's true, there's a feeling of impending disaster that makes you hypervigilant for clues. Why did Christopher leave? Where are the accidents coming from? What are these ghostly presences that seem to follow Cara's family? There are secrets living and breathing through the Accident Season's magic, and discovering them may be more terrifying than not knowing. But the other half is simple humanity. Fowley-Doyle cultivates relationships between her characters that are rich, multifaceted, and achingly felt. The unspoken words. The friendship that glues the foursome together. The secret touches, shy smiles, and resisted magnetism of uncertain first loves. It's about what makes a family, what divides them, and what ultimately keeps them together.
It's about the power secrets have to break--and to unite.
On a last note, I want to comment on the relationship between Cara and Sam. Early on, it's clear that they have romantic feelings for each other. I realize that this is squicky for some people. Because they're stepsiblings. And I found myself feeling that way too, at first. But their relationship is so pure and beautiful, founded in mutual understanding and deep respect and love, that I was shipping them hardcore before I knew it. Because love is love. And they were ten when they met. And in the end, they're not actually blood related. And I think it ties, too, into Fowley-Doyle's conception of family. Bea is as much a sister to Alice and Cara as Sam is a brother. Family is made up of people you choose, love is something unchosen. This all may push your comfort zone a little, but...why not?
One more drink for the watery road.
in a sentence
The Accident Season is a dreamlike vision of four friends contending with a seemingly supernatural mystery and the devastating reality of their own secrets. It leaves you feeling just a little more magical.
Note: I received this copy in exchange for a review. The price of the book and its origin in no way affected by stated opinions.