review
book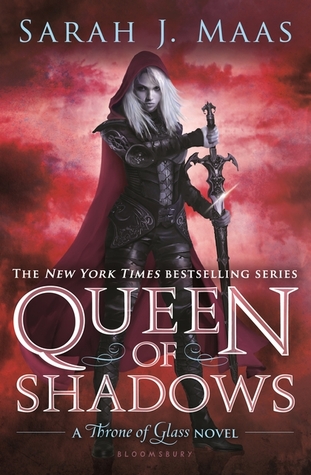 title:
Queen of Shadows
author:
Sarah J. Maas
pages:
648
format:
Hardcover
isbn/asin:
978-1619636040
buy it:
Amazon
|
B&N
|
Goodreads
rating:
3.5/5 (from hated to loved) or 6.5/10 (all books I've ever read)
recommended for:
Fans of
Shadow and Bone
by Leigh Bardugo and other lush high fantasies with powerful chicks.
The queen has returned.

Everyone Celaena Sardothien loves has been taken from her. But she's at last returned to the empire—for vengeance, to rescue her once-glorious kingdom, and to confront the shadows of her past…

She has embraced her identity as Aelin Galathynius, Queen of Terrasen. But before she can reclaim her throne, she must fight.

She will fight for her cousin, a warrior prepared to die for her. She will fight for her friend, a young man trapped in an unspeakable prison. And she will fight for her people, enslaved to a brutal king and awaiting their lost queen's triumphant return.

The fourth volume in the New York Times bestselling series contrinues Celaena's epic journey and builds to a passionate, agonizing crescendo that might just shatter her world.
in depth
You've already heard the hype. When Queen of Shadows dropped, people were calling it the most perfect book in existence or the worst crime against literature. With only some exaggeration. And then there is your present author, who stands waveringly, disappointingly in the middle. To preface: I loved Throne of Glass. The love triangle in Crown of Midnight pissed me off, but I thought it was emotionally breathtaking. And while Sorcha was a total cop-out character in Heir of Fire, the rest of the book was gripping and heartwrenching in its tales of friendship forged and broken. My hopes were--perhaps overly--high.
Queen of Shadows was . . . pretty good. That's it. I wanted to love it. I wanted to fall in love with the series all over again. In the end, it took me a while to read this book and when I finished, I reflected on what was a pleasant but certainly not life-changing read. Where do I begin? I'll start by saying that I disagree with the venomous attacks on Aelin's character. Aelin was always self-centered and ruthless, and that when she was playing a role. Now in her own name and character, she didn't surprise me with her cold, queenly implacability. And I rather thought Chaol was the same as he always had been, only justifiably enraged. Giving a character truly terrible flaws is not the same as massacring them.
I also didn't care about the romance. Which probably ruined some of the book for me, since an undeservedly large portion is devoted to it. And I was indifferent. I've always loved the friendships between Celaena, Dorian, and Chaol most, and have cared about pairings only when they harm those friendships. Yet, while Aelin's callousness doesn't surprise me, her partner's choice in her does. I mean, I'm trying not to spoil here, but you'd think he's seen a pretty face or two.
The characters were both a strength and detriment. Say what you will, I adore Manon and I think her fierce willfulness and cruelty is a refreshing change from the norm. While I think she's veering anti-hero, I think that was already presaged in Heir of Fire. She chooses her own justice and metes it out as she pleases--sometimes to the benefit of a poor lost soul. It was also nice to have Aelin's memories fully open to us, and Chaol's unbridled pathos. Then there was Nesryn. I liked her--and certainly QoS needed another woman--but for someone who worked with Chaol allegedly for years, she came out of nowhere.
Then there was Elide. She was okay. I cared about her insofar as I cared about Manon's concern for her, and while I see her figuring largely into the next book, I don't really know why. On the other hand, Lysandra's burgeoning role was welcomed. She's a fierce, fiery counterpoint to Aelin's chill, and in my mind deserved more pages than she had. I'm also a little bitter because Dorian is largely absent from this book, but I will also congratulate Maas on that choice, because it was totally necessary and reasonable from a plot standpoint. I just miss my DorDor. ...don't judge me.
Then there were a number of bits that just rubbed against my grain. First of all, when did "men" become "males?" Are we animals now? I get it for the Fae, but suddenly Chaol is a male, so is Aedion. It's creepy. "With words, or with tongue and teeth?" I'll leave you to imagine; perhaps I'm prudish, but it made me curl up into a little cringey ball. Then we have Aedion's point of view. Which was useful for . . . ? I'm waiting for the crickets to deliver an answer. Oh, yes, it was useful for having Aedion brood over how Aelin is letting Rowan be her bodyguard, and so that even more chapters can be devoted to Aedion and Rowan having a pissing contest over what Aelin can and cannot do. Thankfully, Aelin does what she pleases regardless, or all my feminist sensibilities would have been scandalized. Also, I'm going to point out that the four books have apparently spanned 10 months. Now add three end-of-time-forever-and-ever loves into that. My head is spinning.
Before you pounce on me for all the snark, I do still give Maas credit on many counts. (I just think her editors needed to be more liberal with the red ink.) She's profoundly attuned to the emotions of her characters, and sucks you into their heads so surely that you feel what they feel. Her language is at times beautiful, always sharp and evocative and mostly tight. Some of the scenes and plots were absolutely brilliant (the ballet!), and her world has an expansive, nostalgic feel that draws me deeper with every book. Just for that, I'd ache to read more. And the whole Valg plotline? It's the dark, vicious center that threads the whole thing together. So, while Queen of Shadows induced an unfortunate amount of skimming, and while it failed to dazzle me, it was still a very enjoyable read that left me wanting more. It is truly possible to hate parts of something but like the whole.
I just hope book five returns to that tight plotting and rich characterization that made the first three so astounding.
in a sentence
Queen of Shadows doesn't charm as thoroughly as its predecessors, but its sweeping fantasy and twisty plot still keeps the series afloat.
Note: I purchased this copy. The price of the book and its origin in no way affected by stated opinions.