review
book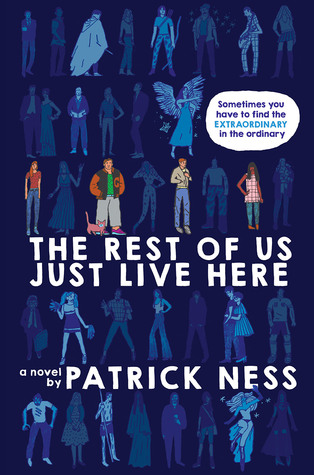 title:
The Rest of Us Just Live Here
author:
Patrick Ness
pages:
336
format:
Paperback
isbn/asin:
978-0765379283
buy it:
Amazon
|
B&N
|
Goodreads
rating:
5/5 (from hated to loved) or 8/10 (all books I've ever read)
recommended for:
Fans of
An Abundance of Katherines
by John Green,
Zeroes
by Scott Westerfeld & Deb Biancotti & Margo Lanagan, the movie
Role Models
, and other things snarky but with heart.
What if you aren't the Chosen One? The one who's supposed to fight the zombies, or the soul-eating ghosts, or whatever the heck this new thing is, with the blue lights and the death?

What if you're like Mikey? Who just wants to graduate and go to prom and maybe finally work up the courage to ask Henna out before someone goes and blows up the high school. Again.

Because sometimes there are problems bigger than this week's end of the world, and sometimes you just have to find the extraordinary in your ordinary life.

Even if your best friend is worshipped by mountain lions.

Award-winning writer Patrick Ness's bold and irreverent novel powerfully reminds us that there are many different types of remarkable.
in depth
You know the heroes? The chosen ones? The badass teens who save the world? Yeah. These are the other guys. Mikey's superpower is debilitating OCD and a hopeless crush on his friend Henna, who's crushing on someone else and who just wants to live a life outside of her parents missionary-ing. Mikey's best friend Jared is the son of a small-time politician and has a thing for cats. Mikey's sort-of nemesis is new-kid Nathan who seems to have caught Henna's eye and is a little too indie. Mikey's sister Mel is trying not to slip back into anorexia, and his other sister Meredith is a kid genius whose single desire is to see her favorite pop country band perform. And Mikey's parents are an alcoholic and singleminded politician who live in their own worlds. Each character is caricatured to the point where they're a real person again, totally believable and frustratingly flawed.

The teens (and Meredith) each have a mission: to get their own crap straight before prom. Before graduation. Before everything changes. The story is told in Ness' signature snarky style, with each chapter prefaced by a brief description of what's going on with the chosen ones. Indie kid Satchel finds a sacred artifact. One of the Indie kid Finns dies. The other Indie kid Finn love-bonds himself to Satchel. Innocent high schools are blown up. Put together, these interludes form the hysterical tongue-in-cheek skeleton of a prototypical Chosen One book, a loving parody. They also stand at contrast to the banal--but very real--problems going on with Mikey and the gang. Problems that sometimes intersect with the Indie Kids, that are sometimes exacerbated by their battles, but that exist in another realm entirely.

Because the rest of the chapters are just about Mikey and his friends. The juxtaposition really shows how sometimes, the big world-sized problems aren't the scariest or the most important. Sometimes it's overcoming your own self-doubt. Sometimes it's figuring out what love is. Sometimes that's harder than defeating the alien overlords or vampire queens. Ness throws his darlings into all sorts of awkward scenarios with loving sadism, creating a story that's equal parts funny, charming, and profound. It's gritty contemporary coming-of-age (the kind with an artsy cover and brush-stroke font) but also cheeky sci-fi but also sarcasm and John Green-esque exaggeration and whimsy. It all blends into a non-squicky heartwarming bundle of everything that is Patrick Ness.

And it freaking gets mental illness and psychology right. More right than most of the books that are supposed to be about mental illness and psychology. Mikey's OCD and Mel's anorexia are totally un-sensationalized. There's a psychologist who actually does psychology and doesn't do anything unethical and dumb. And Ness even mentions Family Based Therapy which is totally a real treatment for eating disorders! And because this book doesn't take itself too seriously, it's able to get across truly serious, soul-shattering ideas about family and self, what it means to break and rebuild. What it means to be human.




in a sentence
The Rest of Us Just Live Here is a darkly hysterical parody of the Chosen One story that celebrates the extraordinary in the ordinary.
Note: I received this copy in exchange for an honest review. The price of the book and its origin in no way affected by stated opinions.