review
book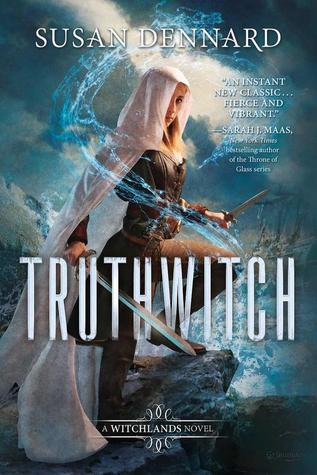 title:
Truthwitch
author:
Susan Dennard
pages:
416
format:
PDF
isbn/asin:
978-0765379283
buy it:
Amazon
|
B&N
|
Goodreads
rating:
5/5 (from hated to loved) or 8/10 (all books I've ever read)
recommended for:
Fans of
Throne of Glass
by Sarah J. Maas,
The Orphan Queen
by Jodi Meadows, and any of Tamora Pierce's Tortall quartets.
On a continent ruled by three empires, some are born with a "witchery", a magical skill that sets them apart from others.

In the Witchlands, there are almost as many types of magic as there are ways to get in trouble—as two desperate young women know all too well.

Safiya is a Truthwitch, able to discern truth from lie. It's a powerful magic that many would kill to have on their side, especially amongst the nobility to which Safi was born. So Safi must keep her gift hidden, lest she be used as a pawn in the struggle between empires.

Iseult, a Threadwitch, can see the invisible ties that bind and entangle the lives around her—but she cannot see the bonds that touch her own heart. Her unlikely friendship with Safi has taken her from life as an outcast into one of reckless adventure, where she is a cool, wary balance to Safi's hotheaded impulsiveness.

Safi and Iseult just want to be free to live their own lives, but war is coming to the Witchlands. With the help of the cunning Prince Merik (a Windwitch and ship's captain) and the hindrance of a Bloodwitch bent on revenge, the friends must fight emperors, princes, and mercenaries alike, who will stop at nothing to get their hands on a Truthwitch.
in depth
I've waited on this review, because I fear I won't do the book justice. By now, you've heard of Truthwitch. The lines at BEA. The Witchlanders. The clans. At this point, you may be wondering to yourself whether a book this hyped can possibly live up to the legend. It was certainly a fear of mine, given how deeply I loved Something Strange and Deadly and how much I adore Susan as a person. But just pages into Truthwitch, I knew that I had found a new soul-twin. It's the kind of book that fills you with magic and light, with echoes of ancient adventures and nostalgia, with thrills and feels. Truthwitch is a sprawling, visionary heir to the long tradition of high fantasy, and an easy favorite.

If you're a world junkie, look no further than the map. Susan has fashioned a vivid world as sprawling as Erilea, as intricate as Tortall. She enriches each nation with unique cultures and history, and spins between them tangled threads of alliances, betrayals, and political intrigues. There is the magic-hating Cartorra with its dangerous witch hunters. Nubrevna, an impoverished kingdom barely clinging to sovereignty. Marstok, a place of fire and mystery. And the Nomatsi, landless outcasts whose traditions are rooted deep in nature and legend. Even though you don't visit all these places, there's a sense of largeness that's lost in some fantasy books. A sense that there's a whole world moving behind the scenes.

Within this world is one of the cleverest magic schemes I've seen in a long time. In Dennard's world, each witch has a power drawn from the six elements. Some witches have the full breadth of the element at their command--Windwitches, Waterwitches. Others, Wordwitches, Ironwitches, have subtler fields of control. Then there are the witches who deal in things unseen. Truthwitches who can feel lies. Threadwitches who see the invisible bonds between friends and foes, the truth of men's hearts. And the Voidwitches, mythical beings with access to oblivion. The multitude of different witcheries is fascinating and adds color to Susan's world--and plenty of challenges to its characters.

Which brings me to the best part of the novel. On the scaffold of good worldbuilding is a group of vibrant characters. The four main POVs are woven smoothly together to create a tense and breakneck narrative. There's Safi, the Truthwitch, whose power is coveted for its political utility. Iseult, her best friend, who senses the Threads in people and tempers Safi's fire with coolness and reason. Merik, a poor prince who just wants a trade agreement, and finds himself drawn into Safi and Iseult's disaster. And Aeduan, the elusive monk who seeks Safi for a bounty, but whose true motives run deeper and darker. These four are supported by a textured cast of kings, friends, fighters, cultists, and bystanders, each with motives that threaten to shake the world.

Our four narratives twine and tangle into the beginning of an epic that spans the world. It begins with Safi and Iseult getting themselves into trouble and catching a price on their heads. When their captors prove too numerous and dangerous, the only option is to flee. But looming larger than them is the Treaty that keeps the great empires at peace. A Treaty fragile and fracturing from all sides. While keeping Safi safe from those who would use her powers for ill, they must also contend with an ambitious pirate queen, a scheming empress, an ancient legend, and an insidious plague on magic that is creeping its way into the nations of the Treaty. A plague that heralds darkness from an invisible enemy, a threat not only to magic but to all the Witchlands.

Full of magic, adventure, cinematic writing, deeply-rooted friendships, and badass heroines, Truthwitch is the epic beginning of a sprawling mystical saga--high fantasy at its sharpest.




in a sentence
Truthwitch
is a sprawling, visionary heir to the tradition of high fantasy, and an easy favorite.
Note: I received this copy in exchange for an honest review. The price of the book and its origin in no way affected by stated opinions.