review
book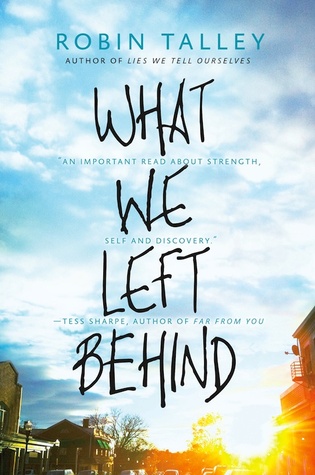 title:
What We Left Behind
author:
Robin Talley
pages:
416
format:
Paperback
isbn/asin:
978-0373211753
buy it:
Amazon
|
B&N
|
Goodreads
rating:
4/5 (from hated to loved) or 6.5/10 (all books I've ever read)
recommended for:
Fans of
None of the Above
by I.W. Gregorio,
Dumplin'
by Julie Murphy,
Never Always Sometimes
by Adi Alsaid, and other coming-of-age stories.
What happens when love isn't enough to conquer all?

Toni and Gretchen are the couple everyone envied in high school. They've been together forever. They never fight. They're deeply, hopelessly in love. When they separate for their first year at college—Toni to Harvard and Gretchen to NYU—they're sure they'll be fine. Where other long-distance relationships have fallen apart, their relationship will surely thrive.

The reality of being apart, however, is a lot different than they expected. As Toni, who identifies as genderqueer, falls in with a group of transgender upperclassmen and immediately finds a sense of belonging that has always been missing, Gretchen struggles to remember who she is outside their relationship.

While Toni worries that Gretchen, who is not trans, just won't understand what is going on, Gretchen begins to wonder where she fits in Toni's life. As distance and Toni's shifting gender identity begins to wear on their relationship, the couple must decide—have they grown apart for good, or is love enough to keep them together?
in depth
Reader alert: I'm going to use "she" for Toni a couple of times because that's where the novel starts, and I don't want to spoil the journey.
If you missed Talley's debut, Lies We Tell Ourselves, go read it. Now. It's a stunning novel rich with historical authenticity and truly complex characters. Talley's sophomore title doesn't quite have the same polish and sheen as her first. It reads a little looser, a little more like your average contemporary YA in its narration and dialogue. However, it's certainly not your average YA. With dual narration and a few flashbacks, Talley tells the story of Gretchen, a sweet vibrant girl who identifies as lesbian, and Toni, her girlfriend, who is grappling with whether she's truly a girl after all.
This is really the first book I've read that deals with trans or genderqueer youth and I thought Talley's treatment of the subject was so respectful and realistic and multifaceted. It could get a little teachy sometimes, because there had to be parts explaining concepts that typical readers wouldn't know. However, since Toni was just learning about these terms too, it did kind of make sense for the characters to be talking about it. I learned so much about genderqueer culture from reading this book. It feels genuine, never judgey, often provocative.
The best part is that Toni is unsure. Ever wonder what gender really is, what it feels like? Toni is discovering that across the novel. Does she prefer "she" or "he" or "they" or "zie" or no pronouns at all? Does Toni consider herself a boy or does she fall somewhere in between? Or is Toni's gender fluid? Toni is adrift and desperate for the label that will reveal her self to her. Even though Toni can get super frustratingly annoyingly elitist, you can't help but empathize. And Talley does a great job of having Toni's friends call out the elitism and the harshness and reminding Toni, yeah, people don't all get this like you do. And Toni grows from it. Plus her friends all have their own identities and deals and I kind of like some of them more than Toni, especially supersweet Derek.
On the other side is Gretchen, who's a little vanilla--but that's half the point. She's always been Toni's girlfriend. Full stop. Toni's friends are her friends. Toni is her other half. Her life. Her future. When she goes to NYU to find out who she really is, she discovers that there's a Gretchen separate from Toni--and maybe being so intertwined wasn't a good thing. While she drove me crazy quite often with her naivete, she grows hugely over the course of the novel. And her friend Carroll is adorably snarky, though perhaps a bit of a gay guy stereotype.
Finally, as much as it's a story about gender and sexuality, it's also solidly a story about high school romance, going off to college, and growing up. What!? An NA novel that isn't all bad boys and sex!? I kid you not. (Please, more NA be like this?) I could relate to so many of the college-y "moments", studying over coffee and freezing on the quad and dealing with awkward roommates. Toni and Gretchen have way more going on than just each other.
And Talley totally shocked me by taking the plot in a direction that I wanted it to go in, but didn't think it would because I was expecting the cliche HEA. No ma'am. Talley bares everyone in this novel to their truest selves, the good and the very bad. She calls out the ways in which Toni and Gretchen's high school relationship was unhealthy. And she lets her characters learn and mature and be real freaking people. It makes up for all the annoyance and frustration I felt during the book--although I was mad at the characters so much, so you do have to bear with them. Because the ending? Perfection.
in a sentence
What We Left Behind is a rich, complex novel about the perils of figuring yourself out--whether it's your gender, your true self, or your place in the newly adult world.
Note: I received this copy in exchange for an honest review. Thanks so much to HarlequinTeen for sending me a copy! The price of the book and its origin in no way affected by stated opinions.