giveaway

splintered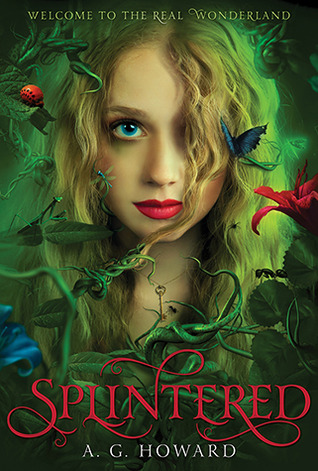 Welcome to the Ultimate Book Blogger Scavenger Hunt, brought to you by Alex at The Book's Buzz and a great group of bloggers. Each blogger in the lineup has a post set up for the event. Their post will include a keyword that is highlighted in the bulk of the post. So keep your eyes open for that highlighted word! That keyword will be your entry for the giveaway!
At the end of each post, there will be a list of the other bloggers that are participating and you can just follow the links to enter some of their giveaways as well! All giveaways end on January 31st, 2016, so you better get on it! If you're confused and still have questions or concerns, please contact me right away!
My giveaway is U.S. only because it's a physical copy and I can't afford the international shipping :( but other people have INT giveaways, so check out everyone's post!
the magic of splintered

I'm an Alice in Wonderland junkie. From the actual book in all it's awesomeness to the Tim Burton movie to the creeptastic video game American McGee's Alice, I'm a sucker for anything Wonderland. When I saw that a new author called A.G. Howard was coming out with a series about a descendant of Alice Liddell, I freaked.

Three books and a short story collection later, I'm still in love. I've read the first two twice and they get better every time. Howard takes the Wonderland you know and twists it into a dark fairy tale dreamscape with twisted magic, nightmarish creatures, and the only love triangle in the history of literature that doesn't annoy me.

Not convinced yet? Sit back and let me tell you all the reasons you want this book. Then enter the Rafflecopter to win a SIGNED paperback (previous post said hardcover; sorry, my mistake :( )!
riddle me this: why splintered owns my heart
Alyssa. She's the great-great-great-something-granddaughter of Alice Liddell, the little girl who inspired Lewis Carroll to write his story. Her mother is in the loony bin for talking to bugs, and Alyssa has the same problem. Only turns out, it's not the ordinary kind of madness she has to worry about...
Jeb. The hot next door neighbor skater boy with a talent for painting and a killer smile. He's one of YA's genuinely good guys--but Alyssa doesn't let him get away with being overprotective, either. She fights her own battles.
Morpheus. The wisdom keeper of Wonderland and a

netherling

, one of Wonderland's twisted residents, he's a sexy silver-tongued trickster with shifting motivations and uncertain loyalties. He'll do anything to protect Alyssa, but his love for her wars against his selfishness and his brutal Wonderland instincts. He's not the kind of guy I'd recommend if he were in the real world, but in Wonderland, he's the king of the joyful lunatics.
Grit. These books aren't glittery bloodless rainbow-fests. Alyssa is no simpering princess. She's a skater who makes mosaics out of dead bugs. She's noble and courageous, but she also embraces her violent side. And Wonderland is a madhouse of murderous flowers, double-crossing queens, and dangerous riddles.
Whimsy. But that grit is balanced by a technicolor day-glo frivolity that turns it from gore to dark carnival. It's a beautiful nightmare, intricately and lovingly crafted by Howard. Rabid White, the skeletal adviser. Twid Sisters, arachnid guardians of the restless dead. Looking-glass mutants and prisons of endless darkness. It's a place you can imagine in your wildest acid dreams or a Salvador Dali painting, a place that calls to you with dark secrets.
Legendary. Splintered is the epic beginning to a sprawling saga that turns everything you knew about Alice onto its head. It's breakneck and nail-biting, with battles, stolen kisses, riddles, nightmarish beasties, double-crosses, triple-crosses, and a story that devastates and echoes. It's the reimagining that Alice deserves.
Lingering. Seriously, this is a book that stays with you. I swear I cried a little when I finished the third book because there were no more adventures, no more Alyssa, Morpheus, Jeb, and Chessie. I'm saving Untamed for when the feels really come back and I need more Wonderland.

Enter the Giveaway