review
book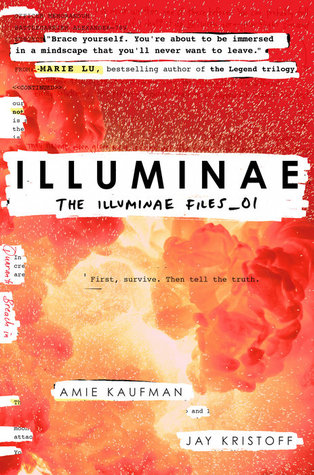 title:
Illuminae
author:
Amy Kaufman and Jay Kristoff
pages:
599
format:
Beautiful hardcover ARC
isbn/asin:
978-0553499117
buy it:
Amazon
|
B&N
|
Goodreads
rating:
5/5 (from hated to loved) or 8/10 (all books I've ever read)
recommended for:
Fans of
Firefly
(yes, that one),
The Unquiet
by Mikaela Everett, and space-heavy hardcore science fiction.
This morning, Kady thought breaking up with Ezra was the hardest thing she'd have to do.

This afternoon, her planet was invaded.

The year is 2575, and two rival megacorporations are at war over a planet that's little more than an ice-covered speck at the edge of the universe. Too bad nobody thought to warn the people living on it. With enemy fire raining down on them, Kady and Ezra—who are barely even talking to each other—are forced to fight their way onto an evacuating fleet, with an enemy warship in hot pursuit.

But their problems are just getting started. A deadly plague has broken out and is mutating, with terrifying results; the fleet's AI, which should be protecting them, may actually be their enemy; and nobody in charge will say what's really going on. As Kady hacks into a tangled web of data to find the truth, it's clear only one person can help her bring it all to light: the ex-boyfriend she swore she'd never speak to again.

Told through a fascinating dossier of hacked documents—including emails, schematics, military files, IMs, medical reports, interviews, and more—Illuminae is the first book in a heart-stopping, high-octane trilogy about lives interrupted, the price of truth, and the courage of everyday heroes.
in depth
Illuminae is a mother

xxxxxxx

phenomenon. A young adult book like no other, it capitalizes on one of my favorite things--turning the formatting upside-down and sideways--and creates an entire novel out of letters, IMs, emails, error reports, transcriptions, and visual representations.

xxxxxx xxxx xx xsssssssssxxxxxx

, it's one of the best novels of the year.
Meet Kady. She's a bad

xxx

hacker with
a dirty mouth,

a deathwish,

a

xxxxxxx

amazing coldly calculating sciencey brain.
She just broke up with Ezra, who is
kind of goofy,

a mother

xxxxxxxx

battle pilot,

stuck on a different ship.
Their planet was just nearly completely destroyed in

a huge crazy explosion

by an intergalactic company. Now, the survivors are scattered onto several different ships, one of which is controlled by a murderous super intelligent computer with a weird affection for Kady and a

xxxx

-poor knowledge of sarcasm: AIDAN. After AIDAN

xxxxx xxxx xxxxx xxxxxxxxxxx xxx

, it becomes clear that Kady, Ezra, and the survivors are in much bigger trouble than they realized. Either they'll reach the nearest safe zone in time, or they'll be blown to tiny space-bits.
Getting the picture yet? Illuminae isn't your typical science-fiction novel. It isn't your typical novel. If you want long paragraphs of description and dialogue, go

find another book

. If you're a little more adventurous and like p u t t i n g t h e p i e c e s together, then pick up this book! You have to be okay with a little frustration and confusion. You're not getting a linear narrative. Plot points are hidden behind the scenes and a lot happens off-screen. You have to fill in the blanks to get to know the characters, but I found them charming and easy to read.
I, personally, found it

xxxxxxx

refreshing to be treated like a

xxxxxxxxx

intelligent reader rather than a child who needs to be spoon-fed. You get to know the characters through how they choose to present themselves. There were times when I was a bit confused, but it just added to the fun. Best part: the document of files is canon, as in someone in the book is reading it just as you are, which is super

xxxxxxx

meta. And Kaufman and Kristoff have a fantastic sense of pacing. It's always moving. Something is always happening. A huge disaster like

that thing that happened that I can't say

may occur on two brief, but visually stunning, pages. And it packs a punch.
The only thing that bugged me was that some of the things didn't really seem like something you'd see in a secret dossier of files collected by a

xxxxx xxx xxxxx xxx xx xxxxxxx xxx xxx xxx xxxxxxx

. Like, it's cute that the person transcribing the videos has a poetic sense, but seriously--we're in the post-space age. They'd just send video. And the spy person is not going to sit making pretty artistic representations of people getting sucked into a space vacuum. So sometimes I was pulled out, reminded this was a novel.
But overall? It's a

xxxxxxx

intense, elaborate science-fiction thriller that left me aching for another installment. There are moments of black humor that punctuate the chaos, showing that even in totally

xxxxxd

up circumstances, people are still people.
Also, AIDAN is Sheldon-level hysterical. Don't tell him I said that.
in a sentence
Darkly funny, eerily beautiful, and constantly thrilling, Illuminae is an experimental novel-in-pieces that breaks everything you thought you knew about science fiction.
Note: I received this copy in exchange for an honest review. The price of the book and its origin in no way affected by stated opinions.