review
book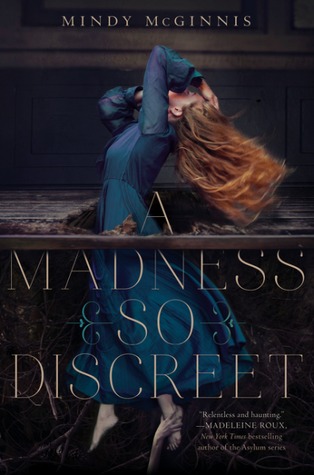 title:
A Madness So Discreet
author:
Mandy McGinnis
pages:
376
format:
Kindle ARC
isbn/asin:
978-0553499117
buy it:
Amazon
|
B&N
|
Goodreads
rating:
3.5/5 (from hated to loved) or 6/10 (all books I've ever read)
recommended for:
Fans of
Jackaby
by William Ritter, Sherlock Holmes, and
These Shallow Graves
by Jennifer Donnelly.
Grace Mae knows madness.

She keeps it locked away, along with her voice, trapped deep inside a brilliant mind that cannot forget horrific family secrets. Those secrets, along with the bulge in her belly, land her in a Boston insane asylum.

When her voice returns in a burst of violence, Grace is banished to the dark cellars, where her mind is discovered by a visiting doctor who dabbles in the new study of criminal psychology. With her keen eyes and sharp memory, Grace will make the perfect assistant at crime scenes. Escaping from Boston to the safety of an ethical Ohio asylum, Grace finds friendship and hope, hints of a life she should have had. But gruesome nights bring Grace and the doctor into the circle of a killer who stalks young women. Grace, continuing to operate under the cloak of madness, must hunt a murderer while she confronts the demons in her own past.

In this beautifully twisted historical thriller, Mindy McGinnis, acclaimed author of Not a Drop to Drink and In a Handful of Dust, explores the fine line between sanity and insanity, good and evil—and the madness that exists in all of us.
in depth
A Madness So Discreet is a delightfully sinister asylum story interwoven with a Sherlock Holmes crime story. Grace is committed to a Victorian-era asylum for a peculiar kind of madness--pregnancy. Like many a fallen girl, she's being shut up in the asylum until the birth to protect the reputation of her father, the senator. Only it was his evil desires that ruined her. Not for the faint of heart.
The plot is intense and multilayered. Grace is content to hide in the asylum to escape her father's depravity, but she grows increasingly worried for her younger sister. When she becomes unruly, the cruel warden schedules her for a lobotomy--but the enigmatic Dr. Thornhollow instead whisks her away to a kinder asylum where he acts as a doctor, and moonlights as a criminal profiler. With his forensic knowledge and Grace's photographic memory, he hopes to catch a rampant serial killer.
Being a serial killer junkie myself (yes, I'm one of those people), I was thrilled to follow Grace and Thornhollow's investigation of the person going about slaughtering young women. Their time period allows for a little looseness in the accuracy of their conclusions, so I didn't twitch. Much. Their search is breath-holdingly twisty and brings out a ferocity in Grace that I didn't expect. McGinnis goes farther than most young adult authors would dare, and the darkness adds power to her words and a chill that lingers.
Aside from the killer, Grace is struggling with her father's evil. With her sister growing older, in danger of suffering her fate, she's desperate to expose her father's vile proclivities to the world before it's too late. Her quest for revenge leads her into a desperate spiral that threatens to undo her very humanity, and casts shadow on the nature of madness.
Dark and written in a poetic prose, A Madness So Discreet is an affecting crime novella that combines the best of Victorian charm with madness and murder. The relationship between Grace and Thornhollow (who is absolutely pompous in an adorable, awkward way) is charged with shared fervor and hints of something more (although I wish there'd been more). There were slow bits and some contrived plot points that keep me from giving this more stars. There was also a something I was missing. Another level of darkness, perhaps.
However, it's a fantastic example of both crime fiction and an asylum story, and a delightfully harrowing read.
in a sentence
Dark and twisted, A Madness So Discreet plays with your ideas of good and evil, sanity and madness, and spins a thrilling tale.
Note: I received this copy in exchange for an honest review. The price of the book and its origin in no way affected by stated opinions.