review
book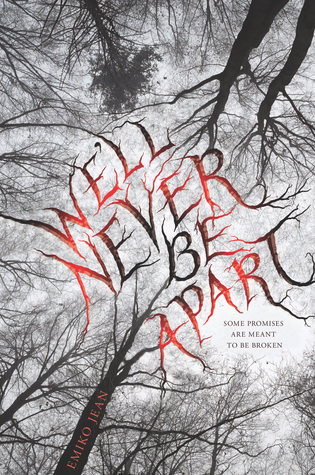 title:
We'll Never Be Apart
author:
Emiko Jean
pages:
279
format:
Kindle ARC
isbn/asin:
978-0544482005
buy it:
Amazon
|
B&N
|
Goodreads
rating:
4/5 (from hated to loved) or 7.5/10 (all books I've ever read)
recommended for:
Fans of
If You Find Me
by Emily Murdoch,
Dead Girls Don't Lie
by Jennifer Shaw Wolf, and other twisted, twisty mysteries.
Murder.

Fire.

Revenge.

That's all seventeen-year-old Alice Monroe thinks about. Committed to a mental ward at Savage Isle, Alice is haunted by memories of the fire that killed her boyfriend, Jason. A blaze her twin sister Cellie set. But when Chase, a mysterious, charismatic patient, agrees to help her seek vengeance, Alice begins to rethink everything. Writing out the story of her troubled past in a journal, she must confront hidden truths.

Is the one person she trusts only telling her half the story? Nothing is as it seems in this edge-of-your-seat psychological thriller from the debut author Emiko Jean.
in depth
The only thing I'd really heard going into this novel was that it's beautifully written--and I was far from disappointed. In the voices of Alice's narration and Cellie's diary, Jean creates a richly layered world, dark and glittering and severely unsettling.
Jean's prose is as sharp as a knife, at times sweet and at times grotesquely poetic.
It was this skin-prickling atmosphere that kept me reading even when elements of the thriller were predictable or unbelievable, and it's this atmosphere that keeps this book in my memory.
Alice is in a mental institution, ruled criminally insane. Again. First committed for a crime she was unwittingly party to, she's here again for a deadly fire that scarred her and killed her beloved Jason. A fire set by her twin. When wolfish bad-boy Chase seems to have information about Cellie's whereabouts, Alice recruits him to help her find her sister--and enact her revenge. Despite some are-you-serious moments (I mean, two kids escaping unseen from a state psychiatric facility? Nowadays? Unlikely.), it's a story that hinges more on its emotional payoff than its plot-shockers.
I had an inkling what might happen from the start, but I don't think the book is any less for the lack of surprise. If you read enough thrillers, you learn the patterns and the likely ends. Like any romance. Like any adventure. What distinguishes any good story is the telling. We'll Never Be Apart is one of the best young adult psychological thrillers I've ever read. With shades of Gone Girl's he-said-she-said, it weaves together two contradictory narratives, leaving you chasing the gaps and lies until the very end.
Its narrators were it for me. Alice is a hollow, distrustful wraith of herself, alive only with the fire of her grief and burning for revenge. Cellie is cold cruelty, a psychopath who protects her vulnerable heart with blood and bone. I believed them, connected fully with their emotions, sympathized with both and raged at both. And they made me believe in the unscrupulous doctors; Jason, romantic with a dark edge that keeps you at bated breath around him; Chase, liquid pain in a snarky shell. In their bleak world of hypodermic needles and chipped linoleum.
I think if your enjoyment of thrillers hinges on a totally unexpected reveal, you'll be disappointed. If you're more interested in a brutally beautiful journey, then this is one to pick up.
in a sentence
We'll Never Be Apart is a beautifully-written exploration of dark, broken minds.
Note: I received this copy in exchange for an honest review. The price of the book and its origin in no way affected by stated opinions.