review
book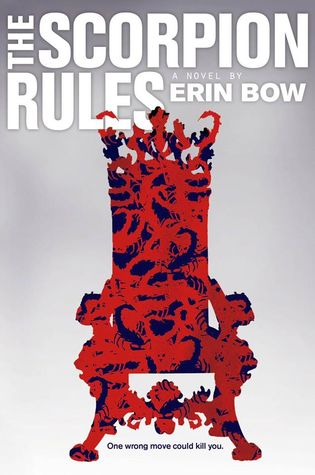 title:
The Scorpion Rules
author:
Erin Bow
pages:
384
format:
Paperback
isbn/asin:
978-1481442718
buy it:
Amazon
|
B&N
|
Goodreads
rating:
3/5 (from hated to loved) or 6/10 (all books I've ever read)
recommended for:
Fans of
The Unquiet
by Mikaela Everett,
Illuminae
by Amie Kaufman and Jay Kristoff, and other dark, morally complicated sci-fi.
The world is at peace, said the Utterances. And really, if the odd princess has a hard day, is that too much to ask?

Greta is a duchess and crown princess—and a hostage to peace. This is how the game is played: if you want to rule, you must give one of your children as a hostage. Go to war and your hostage dies.

Greta will be free if she can survive until her eighteenth birthday. Until then she lives in the Precepture school with the daughters and sons of the world's leaders. Like them, she is taught to obey the machines that control their lives. Like them, she is prepared to die with dignity, if she must. But everything changes when a new hostage arrives. Elián is a boy who refuses to play by the rules, a boy who defies everything Greta has ever been taught. And he opens Greta's eyes to the brutality of the system they live under—and to her own power.

As Greta and Elián watch their nations tip closer to war, Greta becomes a target in a new kind of game. A game that will end up killing them both—unless she can find a way to break all the rules.
Hey, guys! Um, in case you hadn't noticed, I've been pretty MIA recently. In any time future (might as well warn you now) until my dissertation is done, my disappearance can be attributed to working long hours, probably making myself physically ill from eating too erratically and sleeping too little and worrying too constantly, and general anxiety paralysis. However, since I love and miss you all, I'm going to try to make blogging a less-stressful escape from the Dissertation with a capital D. So I'll be playing with some shorter formats until my brain is restored to its usual semi-functionality.
in depth
The premise is fabulous. The United Nations has decided to take the children of world leaders as hostages to promote peace. Wage war, and your kid gets the axe. It's an extreme but plausible near-future and Bow plays around with the mechanics of it in fun and tragic ways.
Oh, did I mention that this whole thing is orchestrated by a massive omniscient hyper-intelligent death robot? F**k with his system and he'll rain nuclear winter on a few of your towns until you get back with the program. Also, his biblical-esque "Utterances" are hysterically sarcastic. Like AIDAN from Illuminae? Meet Talis, his extra-murdery counterpart.
I didn't actually mean for the hostage thing to create a whole bunch of hereditary monarchies. But, you know, whatever. Murdering princesses. I can work with that.
The people who run the hostage compound are robots.
Greta, our hero, is a cold, clever knife of a girl. She's teacher's pet, prim and proper, but as brutal as a tornado-swept field, and as gentle as rabbit fur. She's a bit aloof and hard to get to know, unless you also happen to be a bit aloof and hard to get to know, in which case you'll feel like you're reading about your own personal thoughts.
The cast is complex and well thought-out, flawed and faceted. Da-Xia is beautiful and serene and imposing, Elian is frenetic and strong and scared and impulsive, the Abbot is protector and tormentor. There's a lot of human feeling running about, a lot of fumbling kisses and confused loves and betrayals and moments of courage.
The writing took some time to get used to. Clearly they teach 1900s English at this school, because everyone talks like a less dandyish version of Oscar Wilde, aka like there are many sticks up many butts. It seems artificial, but you get used to it--and it kinda makes sense, given they're mostly royals and apparently talking like a robot is protocol.
It's worth it to stick with, because Greta's narration is unabashed and darkly funny, with truly beautiful moments tucked inside. But it maybe makes the characters feel a little far away.
The plot is a little slow. Probably I'd have rated it higher if the pacing had been better. The twists are pretty damn cool (that ending!), but the spaces between them are too drawn out, too meandering.
Also, I wanted more Utterances.
in a sentence
The Scorpion Rules is a richly imagined near-future sci-fi that pits logic against emotion, humanity against humans.
Note: I received this copy in exchange for an honest review. The price of the book and its origin in no way affected by stated opinions.