review
book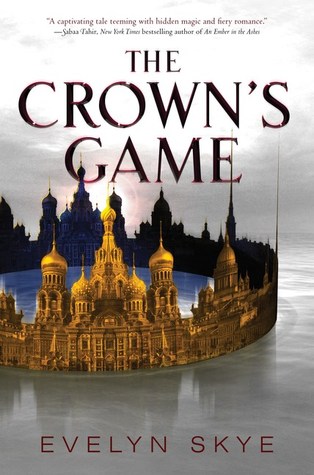 title:
The Crown's Game
author:
Evelyn Skye
pages:
399
format:
Kindle ARC
isbn/asin:
978-0062422583
buy it:
Amazon
|
B&N
|
Goodreads
rating:
4.5/5 (from hated to loved) or 7.5/10 (all books I've ever read)
recommended for:
Fans of
Throne of Glass
by Sarah Maas,
Burning Glass
by Kathryn Purdie, and
The Lioness Quartet
by Tamora Pierce.
Vika Andreyeva can summon the snow and turn ash into gold. Nikolai Karimov can see through walls and conjure bridges out of thin air. They are enchanters—the only two in Russia—and with the Ottoman Empire and the Kazakhs threatening, the Tsar needs a powerful enchanter by his side.

And so he initiates the Crown's Game, an ancient duel of magical skill—the greatest test an enchanter will ever know. The victor becomes the Imperial Enchanter and the Tsar's most respected adviser. The defeated is sentenced to death.

Raised on tiny Ovchinin Island her whole life, Vika is eager for the chance to show off her talent in the grand capital of Saint Petersburg. But can she kill another enchanter—even when his magic calls to her like nothing else ever has?

For Nikolai, an orphan, the Crown's Game is the chance of a lifetime. But his deadly opponent is a force to be reckoned with—beautiful, whip smart, imaginative—and he can't stop thinking about her.

And when Pasha, Nikolai's best friend and heir to the throne, also starts to fall for the mysterious enchantress, Nikolai must defeat the girl they both love... or be killed himself.

As long-buried secrets emerge, threatening the future of the empire, it becomes dangerously clear... the Crown's Game is not one to lose.
in depth
If you've been anywhere near the internet, you know that The Crown's Game has exploded in the YA world. In fact, it hit the NYT bestseller list at #3 today! For good reason. Skye's debut is a fast-paced battle royale with backstabbing, trickery, a touch of whimsy, and scads of magic.
Vika and Nikolai are Enchanters, the only ones of their kind. Every Enchanter must serve the Tsar--but the well of magic is limited and, in true Highlander fashion, there can only be one. Hence, the game. The victor pledges their powers to the glory of Russia. The loser dies, surrendering their hold on magic.
While I had a few issues with the premise at first--really, they can't just both be Enchanters?--I began to understand the fear of these people. With magic being a limited resource, power would be split between two people who could do weaker spells than one person using all the magic at once. Thin, maybe, but governments have devised crazier contests under more asinine assumptions. It's the biggest flaw. Accept it, and the adventure is well worth the effort.
There is an immediate feeling of old world high magic and fairy stories, of Ella Enchanted and Diana Wynne Jones. Vika races through the forest, freezing ponds and fending off felled trees with firebombs. Nikolai scrapes at the feet of his oppressive benefactor. Prince Pasha sneaks around the docks at night, pretending at the freedom of the commoners. There's even a bakery shaped like a pumpkin. Skye writes with a clear, graceful style that brings each scene to dreamlike life.
If that's not enough, Skye's command of Russian history and culture is so exact that you feel transported.
Against this enchanting backdrop is the deceptive prettiness of the game. Vika and Nikolai paint the capitol in magical colors, create spectacular living puppet displays, change the very land, but death waits for them at the end--or the middle. What I loved is that even though they don't want to hurt each other, they still want to save their own skin. Between magical feats, they devise ever cleverer and deadlier schemes to murder each other, and they truly mean it. It's no sportsmanlike romp.
Their cutthroatedness makes them realistic, and their other qualities make them admirable. Vika is as fiery as her hair, wild, full of energy and grand ideas and mischief. Nikolai lives in his head, inventing and tinkering; he's soft spoken, genteel, and compassionate to a fault. Between them is Pasha, dashing and charmingly childlike. There is no clear winner. No best outcome.
Skye entrances you at first with the delight of the competition, with balls and flirtations, and then wrenches out the light piece by piece. People die. There are betrayals. There are dangerous, otherwordly threats and enemies abroad that force Vika and Nikolai to think beyond the game, to the good of all Russia. And there's a final showdown, an ending that will pierce you right through the heart and leave you weeping for the sequel.
And for the record, I miss the little Vika from the cover. What gives!?
in a sentence
The Crown's Game blends folklore and ferocity into a fantastical game of cat and mouse that enchants and cuts deeply.
Note: I received this copy in exchange for a review. The price of the book and its origin in no way affected my stated opinions.