review
book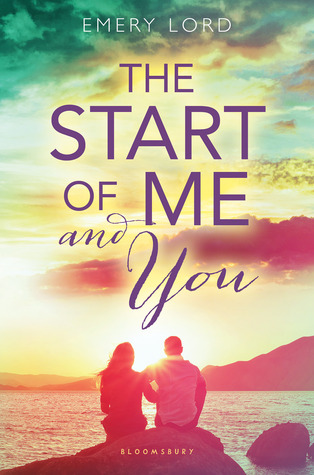 title:
The Start of Me and You
author:
Emery Lord
pages:
384
format:
Hardcover
isbn/asin:
978-1419718953
buy it:
Amazon
|
B&N
|
Goodreads
rating:
5/5 (from hated to loved) or 9/10 (all books I've ever read)
recommended for:
Fans of
I'll Meet You There
by Heather Demetrios,
You Were Here
by Cori McCarthy, and other uplifting contemporaries with a bite.
It's been a year since it happened—when Paige Hancock's first boyfriend died in an accident. After shutting out the world for two years, Paige is finally ready for a second chance at high school . . . and she has a plan. First: Get her old crush, Ryan Chase, to date her—the perfect way to convince everyone she's back to normal. Next: Join a club—simple, it's high school after all. But when Ryan's sweet, nerdy cousin, Max, moves to town and recruits Paige for the Quiz Bowl team (of all things!) her perfect plan is thrown for a serious loop. Will Paige be able to face her fears and finally open herself up to the life she was meant to live?
in depth
This was my first Emery Lord read (although the second I reviewed), and it won me over in spades. (Do people say that?) If you've seen her tweets, bright and vibrant and black witted and mischievous, then you'll have a good idea what this book is like.
If you're looking for a sweet contemporary with more edge than you'd expect, lots of geekery, nerdpower galore, and literary references (*cough*Jane Austen*cough*), you've found your soulmate. I'd call it a romance because I suppose it is, but it's so much more. It's a high school story, a mental health story, a girl trying to figure herself out story. It's fun and frothy--but never sickly sweet--and laugh-out-loud and swoony and also dark and soul-crunching and sober. Lord has a way of encapsulating a slice of time in all its facets, in a way that sparks the imagination and memory.
This book has everything that so many other YA books miss out on. There's a huge emphasis on family. Paige has a close relationship with her grandma, who helps her find herself. She confides in her mother, jokes around with her father--and has to deal with the fact that they're dating in secret, years after their divorce. These pieces are big, important parts of the story, not just a few lines thrown in to remind you she's not an orphan.
And friends! Paige, Morgan, Kayleigh, and Tessa have such a strong bond. It reminds me so much of my friends in high school or college. Like us, they know each others pasts, flaws, favorite ice cream and least favorite nail polish. They fight and get snippy, but it's never forever. And when the boys enter the picture, Paige's friends are part of it, along for the ride, not shunted to the side.
And yes, of course, there are boys. I'm such a sucker for cute nerds, and even more of a sucker for high school romance where sex isn't in the picture yet. Because I was a high schooler who, well, didn't date, but even if I had, I know I wouldn't have been ready for that. So it's refreshing and vindicating to see girls in YA who were like me. Because I know there are girls out there now who feel the same way, and want to see themselves represented too.
Back to the boys. Did I mention that Max instantly became one of my top 5 book boyfriends after an excerpt I read? One about denial. Swoon. Cough. Go read it. You'll know what I mean. He's tall and a little gawky and a total brainiac (like, Quiz Bowl brainiac) and he flirts with Jane Austen references and coffee and utterly disarming sarcasm. Teenage-me would have been 99,000% percent in love. (Yeah, that's a thing.) Oh, but Paige is focused on Ryan, because he was her crush, and now he's her chance to get back to normal. As time goes on, she and Max and Ryan all become friends, plus her friends, and they get to know each other so much more deeply than just quick kisses and ceaseless crushing.
With a dark undertone. Paige needs to feel normal because over the summer, her boyfriend died. Tragedy of the ages, right? Yes, and no. They'd been dating for two months. Over the book, Paige struggles with her grief, but also her shame and uncertainty. Is she allowed to feel sad? Is she allowed to feel not totally destroyed? Is she now just the girl-whose-boyfriend-died before she really even got to know him as a boyfriend? Is she ever going to be able to go near water again without her heart wrenching itself out of her rib cage?
This book is so much, so rich and layered in a short space. It's Paige absolutely not, no freaking way falling for Max. It's her learning to trust her friends, but also learning to be herself, whether that's Quiz Bowl or pastel nailpolish or late-night calls with grandma. It's her reimagining her family, letting new people into her heart, letting go.
And it's also a lot of crazy birthday parties, bookstore flirting, spin the bottle, almost-kisses, accidental betrayals, and reparations. It's written in a lively, funny, snarky style that draws you firmly into Paige's head.
And Max. Where do I get one of those?
in a sentence
The Start of Me and You is a story about first loves, first losses, unexpected loves, real friendships, and lovingly dysfunctional families. It's Jane Austen nicknames and swimming in the deep end. It's high school.
Note: I purchased this copy. The price of the book and its origin in no way affected my stated opinions.