review
book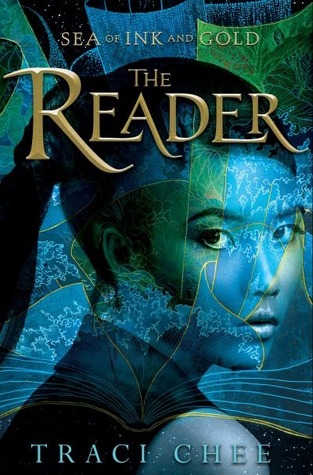 title:
The Reader
author:
Traci Chee
pages:
400
format:
Paperback
buy it:
Amazon
|
B&N
|
Goodreads
rating:
5/5 (from hated to loved) or 8.5/10 (all books I've ever read)
recommended for:
Fans of
Truthwitch
by Susan Dennard,
The Girl From Everywhere
by Heidi Heilig, and other badass pirate-y fantasy adventures. Or just fantasy. Or good writing.
Sefia knows what it means to survive. After her father is brutally murdered, she flees into the wilderness with her aunt Nin, who teaches her to hunt, track, and steal. But when Nin is kidnapped, leaving Sefia completely alone, none of her survival skills can help her discover where Nin's been taken, or if she's even alive. The only clue to both her aunt's disappearance and her father's murder is the odd rectangular object her father left behind, an object she comes to realize is a book—a marvelous item unheard of in her otherwise illiterate society. With the help of this book, and the aid of a mysterious stranger with dark secrets of his own, Sefia sets out to rescue her aunt and find out what really happened the day her father was killed—and punish the people responsible.
in depth
When I picked this up, I was expecting a fanciful tale about a girl living in a world without reading. What I got was so, so much more. The Reader is a modern classic, a layered, multifaceted, literary epic that delves into the nature of stories themselves. It's a book I'd place next to the Chronicles of Narnia, His Dark Materials, and more contemporary favorites like Heidi Heilig's The Girl From Everywhere.
At the heart is Sefia, girl of my soul, so lovingly drawn. Her story begins with a few time jumps that are a little jarring, but once I got used to the more literary flow, the huge scope of the thing, I really came to know her. She's complex and messy. She's haunted by past acts of fear and selfishness. She's headstrong, bold, and a little abrasive. She's not always easily to like, which made me like her even more. Her foil is Archer, the silent boy with a dark past, cleverly revealed in actions and gestures rather than words (very interesting, for a book about words!). Then you have Captain Reed, part man and part legend, bound by an insatiable need to create stories. Plus the assassins from the Library with their shadowy motivations. Plus the pirate crew. Plus the enigmatic villains capturing boys and making them killers. They're so diverse (holla #weneeddiversebooks and #ownvoices crew) and unique, nary a cardboard cutout among them.
It's a huge cast, but Chee handles them masterfully. There were times I was confused, but I always felt an implicit confidence that she knew what she was doing, that she'd lead me to where I needed to go. The upside is that her world feels vast and real, unique and intriguing. It's no copy of overdone, shoddily-built fantasy worlds. It has its own mythology and culture, its own legends, history, and mythos, its own politics and geography. Even when Chee doesn't give all the details, there's enough of a scaffold for it to feel like you're living somewhere else. The magic system alone is something fresh and new.
It all makes for a truly sprawling story. At the surface, you do have a world without books, but it's so much more complex than that. Chee's world is full of people who do not read, but they do tell stories. Stories are powerful. Stories are the way people are remembered and immortalized. And when writing is involved, stories can literally be magic. Chee works with stories on every level, stories within stories within stories (dare I say, the word "meta" comes to mind).
The plot is rich and full of interweaving threads that reveal their secrets slowly. It's not a breakneck book. It's dense. It takes time to set the stage, layer by layer. Within Sefia's main narrative, there are the stories of pirates and world wonders that she's reading at the same time we're reading them. There are the pirates themselves, existing in the same timeline as Sefia in addition to the stories about them. There is a thread about the other Readers, teasingly enigmatic until a truly OH MY GOD revelation later on. And the characters are always sharing other stories, reinventing themselves and their identities through their telling.
It's difficult to encapsulate this book in a succinct way, because it isn't succinct. Not to say that it's overly effusive. Chee's command of language is impressive. She uses words like paint, dabbing them here and there where needed, adding whimsy in some places and grave seriousness in others. Her prose is tight and inhumanly beautiful. But the whole picture is complex, intentionally murky in places. It's the kind of book that demands a reread--and I'll gladly give it one as soon as I can. It's the kind of book that worms into your soul and leaves you staring into space for a while after the last page, still trapped in its atmosphere.
in a sentence
The Reader is a lush, atmospheric fantasy adventure with a diverse cast, sprawling scope, and a world that demands to be known.
Note: I received this copy from the publisher in exchange for a review. The price of the book and its origin in no way affected my stated opinions.