review
book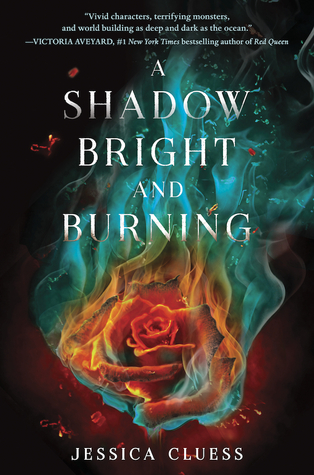 title:
A Shadow Bright and Burning
author:
Jessica Cluess
pages:
416
format:
Paperback
buy it:
Amazon
|
B&N
|
Goodreads
rating:
3.5/5 (from hated to loved) or 7/10 (all books I've ever read)
recommended for:
Fans of
Neverwhere
by Neil Gaiman,
Sorcerer to the Crown
by Zen Cho, and other whimsical historical fantasy with an edge.
I am Henrietta Howel. The first female sorcerer. The prophesied one. Or am I?

Henrietta Howel can burst into flames. When she is brought to London to train with Her Majesty's sorcerers, she meets her fellow sorcerer trainees, young men eager to test her powers and her heart. One will challenge her. One will fight for her. One will betray her. As Henrietta discovers the secrets hiding behind the glamour of sorcerer life, she begins to doubt that she's the true prophesied one. With battle looming, how much will she risk to save the city--and the one she loves?
in depth
A Shadow Bright and Burning was one of my most hotly anticipated books of this year, and for good reason. It's a whimsical, atmospheric historical fantasy in the vein of fantasy classics, Harry Potter meets H.P. Lovecraft meets Neil Gaiman's Neverwhere. While it doesn't quite eclipse its predecessors, Cluess' debut is a strong addition to the canon, full of spark and good feels.
The concept and world really resonated with me. The setting is alternate universe Victorian London, where sorcerers and magicians are commonplace and seven megaton mythical beasties--the Ancients, patently and lovingly inspired by Cthulu--assail the nation. I wish Cluess had played up the Victorian culture more. There are many nods to the lower status of women, class issues, etc., especially with Henrietta being the first female sorcerer in centuries. However, it's an exploration Zen Cho did better in Sorcerer to the Crown, a very similar book (think magical England, sorcerers, rare female magic-user) with a stronger plot and ethnically diverse cast. In fact, go read it. Now.
That's really my main issue with this book, wanting more. Deeper exploration into the themes of freedom and status. More diversity in the cast--as in, Henrietta was described as dark-skinned, but it was basically never mentioned again and felt thrown in? And then there's the matter of the other sorcerer boys, most of whom are so indistinctly drawn that I kept getting them mixed up. So when certain characters did certain "huge" things, I didn't care all that much because I didn't feel invested in them. I also thought the chemistry between Henrietta and Rook was rather flimsy, more like I was being told they cared deeply for each other rather than seeing their deep friendship alive on the page. I also wanted more Fenswick and faeries, because Cluess created such a lively character there but never took full advantage of him.
Before you think I'm just naysaying, I'll tell you why I liked it anyway. It's fun. The magic is hardcore elemental, which I love, with the twisted magicians' magic thrown in. The writing is very pretty at times, and hysterical at others. I found myself laughing quite often at the witty banter between Henrietta and Magnus, the loving gruffness of Hargrove, and a variety of tongue-in-cheek lines presented in perfect deadpan. There's an Alice in Wonderland snark about it that's very appealing, with a Lovecraftian darkness that gives an otherwise whimsical story some depth and bite.
And while characters like Lambe, Wolffe, and Dee were interchangeable and Eliza--basically the only other female--was totally thrown in, others were strong. Henrietta herself is fearsome and proud, resourceful and with enough edges to make her likable. Magnus is totally adorable, even though his character feels a little distorted towards the end. And I really came to care for Blackwood, the duty-worn earl who begins as Henrietta's biggest critic.
Overall, it's a solid book. Some pruning in places and additions in others would have made it stronger. I'd love to see more exploration of the Ancients and their magic in the sequel, stronger characterization of the side characters, more nuanced discussion of the themes (oppression of women, prejudice against magicians and faeries, classism) that are so important to the book but somewhat clumsily done. But I will read the sequel, because A Shadow Bright and Burning is a lovely throwback to traditional magic-centered fantasy. Reading it was like being home again.
in a sentence
A Shadow Bright and Burning is a darkly whimsical adventure that pulls together old-school historical fantasy and Lovecraftian horror into one thrilling tale.
Note: I received this copy from the publisher in exchange for a review. The price of the book and its origin in no way affected my stated opinions.