review
book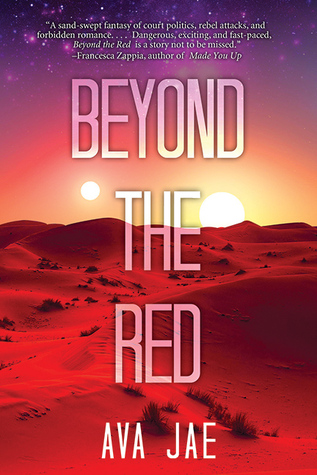 title:
Beyond the Red
author:
Ava Jae
pages:
360
format:
Kindle ARC
buy it:
Amazon
|
B&N
|
Goodreads
rating:
3/5 (from hated to loved) or 5/10 (all books I've ever read)
recommended for:
Fans of aliens, forbidden love, and light, easy reads. People who enjoy Amanda Hocking or Margaret Stohl.
A story of betrayal, love, and loss—all on a technologically advanced alien planet where monarchy reigns, but lies rule.

Alien queen Kora has a problem as vast as the endless crimson deserts. She's the first female ruler of her territory in generations, but her people are rioting and call for her violent younger twin brother to take the throne. Despite assassination attempts, a mounting uprising of nomadic human rebels, and pressure to find a mate to help her rule, she's determined to protect her people from her brother's would-be tyrannical rule.

Eros is a rebel soldier hated by aliens and human alike for being a half-blood. But that doesn't stop him from defending his people—at least until Kora's soldiers raze his camp and take him captive. He is given an ultimatum: be an enslaved bodyguard to Kora, or be executed for his true identity—a secret kept even from him.

When Kora and Eros are framed for the attempted assassination of her betrothed, they flee. Their only chance of survival is to turn themselves in to the high court, where revealing Eros's secret could mean a swift public execution. But when they uncover a violent plot to end the human insurgency, they must find a way to work together to prevent genocide.
in depth
I don't read a lot of sci-fi, but I wish I did. (Recs in the comments, please?) Beyond the Red is a perfect bridge from my fantasy-heavy rotation, with interesting species that could be at home in a fantasy world, enough science and alien-y awesomeness to be sci-fi, but not too much of the hard stuff. Perfect for someone like me who loves a good hardcore science fiction, but needs to ease into the genre. It didn't wow me, but it's a very solid book.
The focus is Kora, Eros, and the alien species they represent. Kora is the queen of Safara, ruler of the Sepharon people (don't get me started on the pointlessness of that spelling inconsistency...). She is the first female ruler in ages, which puts her in danger from the rigidly traditional upper crust who doubts her fitness and is gunning to put her brother on the throne. Kora struggles with maintaining her femininity while proving to her people that she's a capable ruler--even if it means excessive cruelty towards the enslaved humans on which Safara depends for labor.
Eros lives with the humans, but is half Sepharon, at home with neither race. Jae did a fantastic job exploring his multiple identities, the dissonance between him, and his feelings of being rejected from both halves of his blood. He's a bit typical when it comes to teenage boyness, but I bought him as a person.
There are some romantic dabblings between them as is strongly implied by the blurb. I didn't really care much about it. They know each other for such a short time. Though I understood the automatic chemistry, I didn't quite buy love. Trigger warning, there was also some uncomfortable damsel-in-distress-ness with respect to a near-assault. I'm not totally anti seeing that in books where it's realistic and done with thoughtful purpose, but it felt forced here, and thus icky.
That said, I think Jae does a good job of not forcing a deep connection between Kora and Eros too quickly. She shows you how their attraction jumps ahead of their reason, and they don't completely understand where they are in relation to each other. She allows them to know and understand each other, although she could do a little more to have Eros grappling with the fact that Kora is responsible for so many human deaths. I wanted to see more dissonance!
It's a case where the plot picks up the slack of the characterization. I was interested enough in learning more about the Sepharon society to keep reading. I wanted to see Kora take charge, and Jae kept enough twists and surprises coming to keep me on my toes. It wasn't the most innovative thing I've ever read, but there was enough going on between assassination attempts, castle intrigue, and Eros' mysterious past that I wanted to read further. I was also really into Serek, a royal and genuinely nice guy. I hope he doesn't become magically evil for plot purposes, because it was refreshing to see a trio not immediately set up as a love triangle.
I was expecting something a little more epic, and the worldbuilding could have been more in depth. There's some interesting technology, but I didn't get the full feeling of being somewhere alien. That said, Jae's writing is clean and evocative, with rich descriptions of the land that create stunning mental images while you're reading. Her voice was engaging and pretty enough to keep me reading even when the plot flagged. While I won't be tackling anyone for the sequel, I'm curious to see what happens next with Kora and Eros, and I hope to see Jae grow as a writer.
in a sentence
Beyond the Red is a quick, fun science fiction that brings forbidden romance to the realm of aliens.
Note: I received this copy from the publisher in exchange for a review. The price of the book and its origin in no way affected my stated opinions.