review
book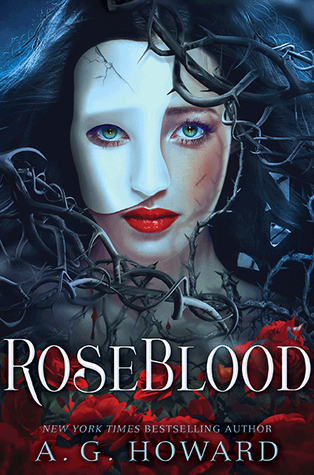 title:
RoseBlood
author:
A.G. Howard
pages:
432
format:
Paperback
buy it:
Amazon
|
B&N
|
Goodreads
rating:
4/5 (from hated to loved) or 6.5/10 (all books I've ever read)
recommended for:
Fans of
Cruel Beauty
by Rosamund Hodge,
Shiver
by Maggie Stiefvater, and other stories with a dark beauty and supernatural bent.
In this modern day spin on Leroux's gothic tale of unrequited love turned to madness, seventeen-year-old Rune Germain has a mysterious affliction linked to her operatic talent, and a horrifying mistake she's trying to hide. Hoping creative direction will help her, Rune's mother sends her to a French arts conservatory for her senior year, located in an opera house rumored to have ties to The Phantom of the Opera.

At RoseBlood, Rune secretly befriends the masked Thorn—an elusive violinist who not only guides her musical transformation through dreams that seem more real than reality itself, but somehow knows who she is behind her own masks. As the two discover an otherworldly connection and a soul-deep romance blossoms, Thorn's dark agenda comes to light and he's forced to make a deadly choice: lead Rune to her destruction, or face the wrath of the phantom who has haunted the opera house for a century, and is the only father he's ever known.
in depth
When I heard that one of my favorite authors was going to be writing a retelling of one of my favorite musicals, I had a small heart attack and then immediately added it to my TBR. I wasn't disappointed. RoseBlood combines Howard's lavishly lyrical prose with authentic characters and imaginative world building to produce an exciting, memorable standalone. It's just another proof that she is, indeed, the master of the modern gothic fairy tale.
Cue glitz and gothic glam, day-glo and lace. The aesthetic that served Howard so well in her remarkable Splintered series is back in force, now in the dank halls of a French opera house turned boarding school. The very opera house where the Phantom allegedly wreaked havoc over a century before. Teenage prodigy Rune is there for a cure. She has an angelic voice, but with a curse: she's compelled to sing or endure great pain, and when the voice escapes her, it leaves her weak and sick. I loved this twist on the idea of a magical gift of song, and the way Howard cleverly weaved it into the Phantom mythos.
Rune's curse connects to the truth behind the legendary Phantom and cements her fate with his in delightful, dangerous ways. Howard's playful reinterpretation of the Phantom myth was a strength of the book. Even if you only have a cursory knowledge of the musical, you'll notice how she weaves parallels from the musical and its real historical underpinnings into her own mystical lore. I won't say too much, but suffice to say, Howard's supernatural take on the Phantom is insanely clever and fits seamlessly into the already-established canon.
You'll notice I didn't give it five stars, unlike Howard's other four books. It was bound to happen eventually. It was just a slow read for me at first, a little too meandering. The first third came off as a great deal of build-up without a clear direction. There were also elements that seemed contrived. The fact that it was a boarding school for American students only. Why? Also, RoseBlood seems like a very weird name for a French school, or any school, so that required some suspension of disbelief. Or the mean girl rival, who seemed an unnecessary complication, or else needed a bigger role. And Rune's day-to-day at school was somewhat neglected--a shame, because I loved her friends and was frustrated that they were professed to be so important to her but were given somewhat cursory page time. I also just personally don't love soulmate stories, so that part of the romance was never going to entice me. It's a testament to Howard's mastery as a writer that I loved this book so much despite the trope.
Regardless of the flaws (and if you read my reviews often, you know I'm nitpicky), I also found a great deal to love. The characters feel quirkily authentic, edgy self-sacrificing Rune and self-effacing Thorn and the incomprehensible Erik. (Sunny's southern drawl is a little over-the-top, but she, like Rune's other school friends, has a compelling personality that makes you want to know more.) The plot, once it picks up, is a clever mystery, with little breadcrumbs luring you along and piecing slowly together into a final shocking revelation. I felt hooked into Howard's world and, if anything, I wanted to know more.
The biggest strength, of course, is Howard's writing. She could take the most banal plot and suck me in with her prose. Luxuriously descriptive, it flows like music and paints each scene in striking detail. With cinematic clarity, I could imagine myself into the fluorescent underground rave, the gilded masquerade, the dank cemetery chapel, the decaying garden. I could hear the music and feel the chill in the air. And the scenes between Rune and Thorn? I may not love soulmate books, but there was no denying their palpable, spine-tingling chemistry.
If you have any love of pretty writing, RoseBlood will entrap you as surely as the Phantom's charm. Phantom fans and newcomers to the story alike will appreciate the supernatural mystery, quirky characters, and rich world of Howard's retelling.
in a sentence
RoseBlood is a gorgeously written retelling that spruces up the Phantom mythos with supernatural flair and gothic glamour.
Note: I received this copy from the publisher in exchange for an honest review. The price of the book and its origin in no way affected my stated opinions.