review
book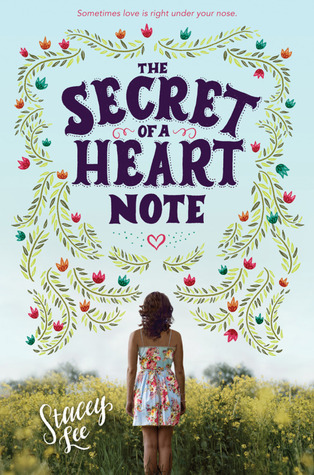 title:
The Secret of a Heart Note
author:
Stacey Lee
pages:
384
format:
Paperback
buy it:
Amazon
|
B&N
|
Goodreads
rating:
5/5 (from hated to loved) or 8/10 (all books I've ever read)
recommended for:
Fans of
Simon vs The Homo-Sapiens Agenda
by Becky Albertallli,
The DUFF
by Kodi Kepplinger, and
Geek Girl
by Holly Smale.
An evocative novel about a teen aroma expert who uses her extrasensitive sense of smell to mix perfumes that help others fall in love while protecting her own heart at all costs

Sometimes love is right under your nose. As one of only two aromateurs left on the planet, sixteen-year-old Mimosa knows what her future holds: a lifetime of weeding, mixing love elixirs, and matchmaking—all while remaining incurably alone. For Mim, the rules are clear: falling in love would render her nose useless, taking away her one great talent. Still, Mimosa doesn't want to spend her life elbow-deep in soil and begonias. She dreams of a normal high school experience with friends, sports practices, debate club, and even a boyfriend. But when she accidentally gives an elixir to the wrong woman and has to rely on the lovesick woman's son, the school soccer star, to help fix the situation, Mim quickly begins to realize that falling in love isn't always a choice you can make.

At once hopeful, funny, and romantic, Stacey Lee's The Secret of a Heart Note is a richly evocative coming-of-age story that gives a fresh perspective on falling in love and finding one's place in the world.
in depth
I'm going to let you in on a secret. Beneath my cynical, snarky veneer, there is a hopeless romantic who delights in the fluffy and fun. I know. I was shocked too. So, after Stacey bowled me over with Outrun the Moon, there was little chance I'd read this book and not love it. I just didn't anticipate how much. With a quirky plot, strong characters, and heartfelt optimism, The Secret of a Heart Note is the perfect lighthearted contemporary--with a touch of fantasy.
Mim is an aromateur. Like her mother, she can smell emotions and bottle love--but she can never fall in love, or she'll end up with a useless, ordinary nose like her estranged aunt. She never thought she'd be in danger, until the day she accidentally gives a classmate's mother a love elixir meant for someone else. That classmate, soccer star Court, becomes her partner in crime as she schemes to undo the magic before her mother finds out and grounds her for the rest of eternity. Oh, and there's the little nuisance of Court's ex, who threatens to out Mim's best friend if Mim doesn't help her re-snag Court's affections.
If it sounds like a Disney Channel Original Movie, that's because it could be, in the best possible way. It's hilarious and light from page one, peppered with smell-related swearing and perfume-y puns that let you know it doesn't take itself too seriously. There are elements, like Mim basically being able to skip school without consequences, that would never fly in a more realistic setting. But, with magical super sniffers, we're not in a realistic setting; suspend a little disbelief and it's a wildly fun adventure.
But that doesn't mean it's without substance. The heart note of the book (chortle) is in its characters. Mim is sheltered in some ways but shockingly pragmatic and worldly in others, with an awkward bluntness that was both endearing and hysterical. Her relationship with her mother is surprisingly fraught; her mother is obsessively career-focused, where "career" means "aromateur" and any other parts of life (friends, school, boys) are just chaff. This creates friction for Mim, who worries that her mother only loves her as a perfume-making, not a daughter. The importance of family is a huge theme across the novel, weaving its way into Court's mother and sister as well. All the adults are lovely and well-meaning (though still flawed!), which is a nice change from the usual clueless or cruel YA set.
I did wish we had more of Kali, Mim's best friend. She's a proud Samoan girl and secretly gay. She's fierce, prickly, and unabashedly herself. I loved her, and I wanted a deeper exploration of her friendship with Mim. I wanted her to be more present. Instead, most of the emotional weight of the story falls on Mim and Court. Admittedly, their Courtship (I swear, I'll stop) is sweet and lovely and full of shoulder grazes, banter, insecurity, and innuendo. It's impossible not to root for them. But there was so much richness in the relationship between Mim and Kali that could have been explored.
Despite this snag, it's an epically entertaining novel of first love, family, and fate. Stacey's prose is clear and airy, an authentic teenage voice shot through with so many rich descriptions of scents that, even though the perfume part of the book made me wary at first, I was enthralled by the end. You can tell how much fun Stacey had writing this book, and that bubbly spirit is infectious as a reader. It's not as serious and dramatic as her historical books, but it's just as vivid, just as compelling.
Read this book and try not to smile. I dare you.
in a sentence
The Secret of a Heart Note is a summery romance, light and vivid and enchantingly funny.
Note: I received this copy from the author/publisher in exchange for an honest review. The price of the book and its origin in no way affected my stated opinions.