review
book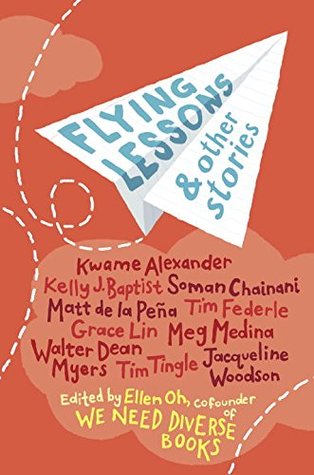 title:
Flying Lessons & Other Stories
authors:
Ellen Oh, Sherman Alexie, Jacqueline Woodson, Kwame Alexander, Walter Dean Myers, Meg Medina, Tim Tingle, Kelly J. Baptist, Soman Chainani, Matt de la Pena, Tim Federle, Grace Lin
pages:
240
format:
Kindle e-ARC
buy it:
Amazon
|
B&N
|
Goodreads
rating:
4/5 (from hated to loved) or 6/10 (all books I've ever read)


Whether it is basketball dreams, family fiascos, first crushes, or new neighborhoods, this bold anthology—written by the best children's authors—celebrates the uniqueness and universality in all of us.

In a partnership with We Need Diverse Books, industry giants Kwame Alexander, Soman Chainani, Matt de la Peña, Tim Federle, Grace Lin, Meg Medina, Walter Dean Myers, Tim Tingle, and Jacqueline Woodson join newcomer Kelly J. Baptist in a story collection that is as humorous as it is heartfelt. This impressive group of authors has earned among them every major award in children's publishing and popularity as New York Times bestsellers.

From these distinguished authors come ten distinct and vibrant stories.
in depth
I'm excited to break my holiday blogging hiatus by telling you about this wonderful short story collection, a partnership between We Need Diverse Books and a slew of kidlit all-stars. I'll admit, it's probably not something I would have picked up on my own. I rarely read short stories that aren't adult literary stuff, and I don't read much middle grade that isn't fantasy. But when the publisher approached me to do a feature and give an honest review, I was intrigued. I always tell myself I should branch out, and so branch I did--with great success.
Flying Lessons & Other Stories is aptly named. It's about soaring, living, being. Growing up. Basketball. Family drama. Crushes. Disappointments. Most importantly, it's full of culture and diverse realities. It's Own Voices. It's about Latinx kids, Asian kids, black kids, Indian kids, white kids, disabled kids, kids discovering their gender and nascent sexuality (in an age-appropriate way). There are echoes of power, privilege, and prejudice, but it isn't tragedy porn. It's kids telling their stories, all kinds of stories, from a range of backgrounds. They are the heroes. They are hopeful. A microcosm of what kidlit can be if we keep demanding representation from all voices.
There are so many stories, I can't give a full critique of them all. In brief: Matt de la Pena's story is a rare 2nd person gem about a young Mexican boy's basketball dreams. Grace Lin's is the brief adventure of a girl servant in a Chinese-inspired fantasy setting. Meg Medina's is about privilege and power for a Latinx girl who dreams of taking over her father's business. Tim Federle's is about a girl who wants to be called Sam, and how we define girls. Kelly J. Baptist's is about a black boy connecting with his father's stories. Tim Tingle's covers the way an uncle's silly versions of Choctaw folklore bring him closer to his nephew. Jacqueline Woodson's is about escaping, being a person of color in a colorless town. Soman Chainani's is about an Indian boy learning to let go. Kwame Alexander's is a fanciful English essay in verse. And Walter Dean Myers writes about wheelchair basketball bringing together father and son.
Hopefully these short descriptions give you a taste of what this anthology has to offer. I read it in a sitting, and enjoyed it vastly. It does have the quirks of short stories that often irks me. Everything ending in media res. Some areas where I wanted more context, more description. A few stories that seem too big to be shoved into little packages. I'm also curious to see what actual middle graders will think. These are the kind of stories I can appreciate now, literary and beautiful, but I'm not sure I'd have appreciated them as a 6th grader hung up on fantasy adventures.
Then again, if I'd read it in school, I'd probably have loved it and loved hearing my classmates talk about it. Maybe it's the book I didn't know I needed then. I'm sure it's a book many of my marginalized peers needed then. I wholeheartedly recommend it to both kids and adults. The stories are poignant, with an authentic slice-of-life feel. The voices are loud as only such masters of the craft can manage. This anthology is whimsical, hopeful, dreamy, and wistful in the best way. In the way that will make you (like me) want to read each of these authors again.
in a sentence
Flying Lessons & Other Stories
is a solid collection of "kids" telling their stories, all kinds of stories, from a range of backgrounds. Of every kind of kid getting to be the hero.
Note: I received this copy from the publisher in exchange for an honest review. The price of the book and its origin in no way affected my stated opinions.