review
book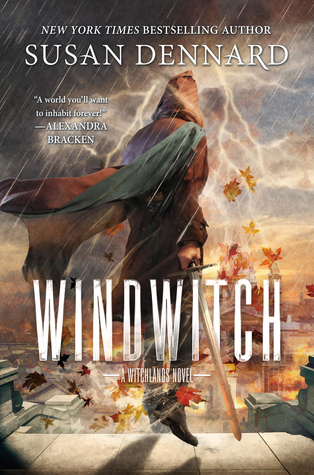 title:
Windwitch
author:
Susan Dennard
pages:
401
format:
Paperback
buy it:
Amazon
|
B&N
|
Goodreads
rating:
5/5 (from hated to loved) or 8/10 (all books I've ever read)
recommended for:
Fans of
Throne of Glass
who want something more complex and diverse, fans of Tamora Pierce,
The Winner's Curse
by Marie Rutkowski, and
Court of Fives
by Kate Elliott.


Sometimes our enemies are also our only allies…

After an explosion destroys his ship, the world believes Prince Merik, Windwitch, is dead. Scarred yet alive, Merik is determined to prove his sister's treachery. Upon reaching the royal capital, crowded with refugees, he haunts the streets, fighting for the weak—which leads to whispers of a disfigured demigod, the Fury, who brings justice to the oppressed.

When the Bloodwitch Aeduan discovers a bounty on Iseult, he makes sure to be the first to find her—yet in a surprise twist, Iseult offers him a deal. She will return money stolen from him, if he locates Safi. Now they must work together to cross the Witchlands, while constantly wondering, who will betray whom first?

After a surprise attack and shipwreck, Safi and the Empress of Marstok barely escape with their lives. Alone in a land of pirates, every moment balances on a knife's edge—especially when the pirates' next move could unleash war upon the Witchlands.
in depth
Happy release week to Windwitch! I was lucky enough to read this book early, thanks to Tor Teen, and it was well worth the wait. Susan already had a sensation on her hands with Truthwitch, but its sequel has raised every stake, heightened every tension, pulled every character to their limit, all with razor sharp writing and expansive worldbuilding. Sophomore slump is a thing of the past.
Meet Merik Nihar. You don't love him? What's wrong with you!? Just kidding. You're entitled to your opinion. I'll just be sad, because I love this grumpy hotheaded cinnamon roll, especially after his arc in this book. As a counterpoint, we get the POV of his sister, Vivia, villain--OR IS SHE!? The deadly sibling rivalry between them is the thread holding this story together. Betrayals. Secrets. Conspiracy. Uncertainty. Merik's blind rage and Vivia's brittle facades. Both of them grow tremendously throughout the story and become complex people you want to read more about.
Our other leads aren't the cover star, but Sooz doesn't skimp on their stories. Safi is hobnobbing with Vaness in the east, coming across pirates and Hellbards as they go. Aeduan and Iseult are thrown together to protect a strange child and have some spectacular, spine-tingling sexual tension. Susan shifts the POVs seamlessly back and forth. The voices of her characters are stronger and more distinct than ever.
New side characters get some screentime too. There's Cam, Merik's crewmate, who keeps him grounded and and is struggling with their own identity. There's Stix, Vivia's best friend--and more? Vivia's father, infirm and bending Vivia's emotions to his will. Caden, the mysterious Hellbard. And Owl, the silent little girl with unusual gifts. Cam was a little too chipper for me and Caden was too guarded this book for me to get a sense of him, but I look forward to seeing how they all grow.
With so many characters and subplots, it's no wonder it's a complex book. Reading it was like watching an episode of Game of Thrones. So much happens and yet, by the time it's over, you're wondering how so much time could have passed! The plot is ever shifting and explosive, with crisis after crisis and so many shocking twists that I was getting whiplash. Plus, the worldbuilding runs even deeper in Windwitch, introducing us to new lands, fleshing out the magic system, teasing more hints about the Puppeteer, and solidifying the Witchlands as a lush and vibrant world worthy of exploring.
This whole package is tied into a neat little bow by Susan's sharp writing. Her voice has grown more polished and precise since the first book. There's a mastery of word choice, a vibrancy of description, a frenetic energy that rips you along breakneck and makes you feel vivid and alive. Each character has these internal refrains that echo across chapters, tying the story together just like Iseult's threads, giving it a literary and old epic feel. Plus some wicked snarky dialogue. I was utterly entranced.
The only downside is a long wait until book three. That's pretty good for a flaw.
in a sentence
Windwitch
is a breakneck, epic addition to a series that promises to be a fantasy classic.
Note: I received this copy from the publisher in exchange for an honest review and for participating in the street team. The price of the book and its origin in no way affected my stated opinions.