review
book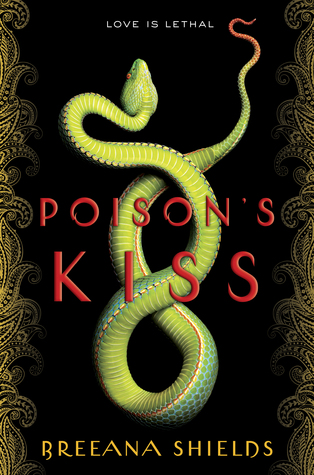 title:
Poison's Kiss
author:
Breeana Shields
pages:
304
format:
Kindle ARC
buy it:
Amazon
|
B&N
|
Goodreads
rating:
2/5 (from hated to loved) or 3.5/10 (all books I've ever read)
recommended for:
Fans of
Spindle
by E.K. Johnston,
Throne of Glass
by Sarah J. Maas, and stuff about assassins.
A teenage assassin kills with a single kiss until she is ordered to kill the one boy she loves. This commercial YA fantasy is romantic and addictive like-- a poison kiss-- and will thrill fans of Sarah J. Maas and Victoria Aveyard.

Marinda has kissed dozens of boys. They all die afterward. It's a miserable life, but being a visha kanya, a poison maiden, is what she was created to do. Marinda serves the Raja by dispatching his enemies with only her lips as a weapon.

Until now, the men she was ordered to kiss have been strangers, enemies of the kingdom. Then she receives orders to kiss Deven, a boy she knows too well to be convinced he needs to die. She begins to question who she s really working for. And that is a thread that, once pulled, will unravel more than she can afford to lose.

This rich, surprising, and accessible debut is based in Indian folklore and delivers a story that will keep readers on the edge of their seats.
in depth
Overall, Poison's Kiss just wasn't a win for me. It started strong with an interesting premise and intriguing opening, but the plot dragged out, fell flat, and delved into some ridiculous territory. By the end, I was reading it to finish it. It wasn't painful, but I could have stopped at any time and been none the worse.
This was my first exposure to visha kanyas, poison maidens who kill with touch, so that part was fascinating. I loved that it was inspired by Hindu legend--a welcome diversion from the glut of western fantasy on the market! I loved the exploration of Marinda's ambivalence towards her work: it's necessary to safeguard her brother, but the uncertainty of her victims' guilt is maddening. These aspects gave depth to a fantasy assassin tale.
The characters themselves were solid, but not overly memorable. Marinda reads as a typically standard fantasy heroine, Deven as the standard strong, clever love interest. Marinda's friend and employer are much sharper and more interesting than the main characters, who fall into pretty bland heroic types. I wanted more punch. More personality. Less flailing and less acting for plot convenience rather than realism.
The writing was similarly solid but unremarkable. Shields turns a number of pretty phrases and her dialogue is believable enough. However, there was nothing to catch my eye, nothing that transported me. Mechanically sound but lacking the atmosphere that makes words into art.
Mediocre writing can suffice if the plot is exciting enough, but Marinda's story lost my interest. Reading was almost a chore by the end. You have a good sense of what will probably happen. Many of the twists are predictable, or so unpredictable because they don't seem to follow from any internal logic. The final twist could have been interesting--it certainly stoked my interest a little--but it was too late.
Finally, there was the matter of the world. No outsider can compete with the lush #OwnVoices alternate-India of a Roshani Chokshi, but there's a vast gulf between Poison's Kiss and The Star-Touched Queen. If you've read Chokshi, you can see immediately where Shields' world is lacking. It's thin. It's like the cardboard cutout of Aladdin with a few Indian myths draped over a generic European medieval court. She certainly made an effort with characteristic foods and plausible names, and her research into Hindu folklore is evident, but even if her world were not India-inspired at all, it would still feel like naked scaffolding. There aren't the hints of depth that fill out a fantasy world: the politics, food, religion, language, scenery, customs. All the way through, I felt unmoored.
All in all, it was an okay book. I don't regret reading it. I didn't grit my teeth through it like some monstrously painful review books. It was fluff, mildly entertaining and quickly passed over. Other people will undoubtedly adore the charms I missed, but this one just wasn't for me.
in a sentence
Poison's Kiss is a fantasy with a compelling premise but not enough substance to bear out the promise of the set-up.
Note: I received this copy from the author/publisher in exchange for an honest review. The price of the book and its origin in no way affected my stated opinions.