review
book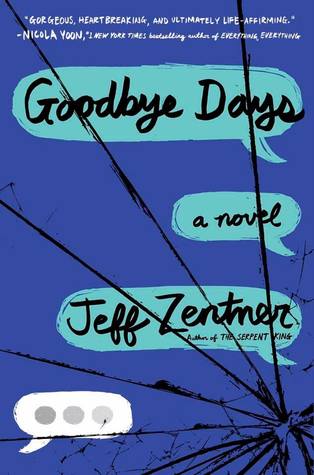 title:
Goodbye Days
author:
Jeff Zentner
pages:
416
format:
Kindle ARC
buy it:
Amazon
|
B&N
|
Goodreads
rating:
4.5/5 (from hated to loved) or 8/10 (all books I've ever read)
recommended for:
Fans of
All the Bright Places
by Jennifer Niven, anything by John Green,
When We Collided
by Emery Lord, or
The Boy in the Black Suit
by Jason Reynolds.
Can a text message destroy your life?

Carver Briggs never thought a simple text would cause a fatal crash, killing his three best friends, Mars, Eli, and Blake. Now Carver can't stop blaming himself for the accident and even worse, there could be a criminal investigation into the deaths.

Then Blake's grandmother asks Carver to remember her grandson with a 'goodbye day' together. Carver has his misgivings, but he starts to help the families of his lost friends grieve with their own memorial days, along with Eli's bereaved girlfriend Jesmyn. But not everyone is willing to forgive. Carver's own despair and guilt threatens to pull him under into panic and anxiety as he faces punishment for his terrible mistake. Can the goodbye days really help?
in depth
If you enjoy getting your heart shredded (in the best way, I swear), then pick up Goodbye Days. I was in a mood, and so it was surprisingly cathartic. Told in alternating present and flashbacks, it's the heart-wrenching, witty story of a white teenage boy who's just lost his three best friends--because they ran off the road, responding to a text he sent them. It's about self-forgiveness, love, grief, and what it means to really know a person.
Above all, I'm so glad I finally read a Zentner book. Everyone raved about The Serpent King and I just never got to it. Then I was in a slump and I made myself read this. I plowed through it in two days, and only because I needed sleep. Zentner's prose is wickedly, darkly funny. Carver's voice is distinct, an endearing mix of awkwardness, teenage boy humor, and profundity. And since he goes to an arts academy and wants to be a writer, the elevation of his prose fits his character in a way that seems artificial in other books. I'm curious to see how other reviewers think he handled aspects of diversity; I thought some of the dialogue sounded a little too teachy, and while I thought his treatment of race and sexual orientation was respectful, I'm also white and straight so it's not my wheelhouse. However, I laughed. I highlighted quotes. I cried (inwardly). I thought about the world in a new way.
There's just something so real about Carver's story. Whether he's describing something in a clever, incisive way or talking about dumb inside jokes, I bought it. I saw my own friends in some of the boys' ridiculousness (like trying to characterize all animals as dogs or cats) and laughed my ass off. His relationships with his parents, sister, friends, and other people around him feel authentic and complex. That's because the people feel authentic and complex. They're quirky without being caricatures and familiar without being types. Each of Carver's friends and Jesmyn, one of their girlfriends, is vibrant and (excuse the wording) alive.
The plot is also quirky in that way of clever contemporaries, but not too much. I could imagine someone coming up with the idea of Goodbye Days quite easily. A last day with your departed loved one? I think many people do something like it in their own way. I also didn't feel manipulated. Carver does go through a great deal of awful-ness. People treat him unfairly. He does stupid shit. Some of the ways others act towards him strained my incredulity a little bit, but not enough to raise alarms.
The only piece I just kept circling back to was the fact that (you learn this very early) some people want Carver to be charged for his friends' deaths. I've heard of drivers caught texting getting charged, but not the people who sent them the texts. In the end, I thought Zentner dealt with that part realistically, but it bugged me enough to pull me out of the pages a few times so I could do some (fruitless) googling.
I've read some reviews were people thought it was over-the-top, or manipulative. I didn't experience that. For me, Goodbye Days was a cathartic read that masterfully trod the line between tragic and heart-warming with a zingy humor that kept us from moving into sickly-sweet territory. I connected so easily with Carter, saw so much truth in him. This book brought up all sorts of existential thoughts long after the last page, and it made me want to grab The Serpent King asap. It made me want to have my own Goodbye Day (before it's necessary, of course). I'll remember it for a long time to come.
in a sentence
Goodbye Days is a quirky-but-authentic exploration of grief and self-forgiveness, with snappy prose, dark humor, and memorable characters.
Note: I received this copy from the author/publisher in exchange for an honest review. The price of the book and its origin in no way affected my stated opinions.