review
book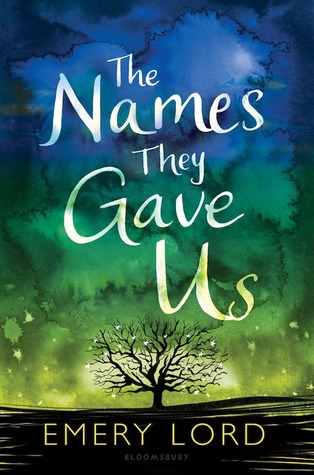 title:
The Names They Gave Us
author:
Emery Lord
pages:
400
format:
e-ARC
buy it:
Amazon
|
B&N
|
Goodreads
rating:
3.5/5 (from hated to loved) or 6/10 (all books I've ever read)
recommended for:
Fans of sweet, witty contemporaries like
Simon vs the Homo Sapiens Agenda
by Becky Albertalli,
The Secret of a Heart Note
by Stacey Lee, and
The Memory Book
by Lara Avery.
Lucy Hansson was ready for a perfect summer with her boyfriend, working at her childhood Bible camp on the lake. But when her mom's cancer reappears, Lucy falters—in faith, in love, and in her ability to cope. When her boyfriend "pauses" their relationship and her summer job switches to a different camp—one for troubled kids—Lucy isn't sure how much more she can handle. Attempting to accept a new normal, Lucy slowly regains footing among her vibrant, diverse coworkers, Sundays with her mom, and a crush on a fellow counselor. But when long-hidden family secrets emerge, can Lucy set aside her problems and discover what grace really means?
in depth
I've always been iffy on books that feature devoutly Christian characters. Jewish, Muslim, Buddhist? Fine. But Christian . . . I never know if it's going to come off super judgey. As a (very) lapsed Catholic agnostic whatever, I tend to get a resurgence of indoctrinated guilt. But Lord's book was a compassionate, self-aware portrayal of a Christian girl. It was a beautiful story about how faith can enrich your life, how it can be a struggle, and how it can create love and kindness rather than judgment and exclusion. Lord also threw in some cheek; Lucy addressed many of the preacher's kid or Christian kid stereotypes when talking with her new friends.
As is characteristic of Lord's writing, Lucy's voice was sharp and felt realistically teen-ish. Her inner monologue is so relatable in its anxieties, its slight judginess and subsequent guilt, its insecurity. Especially talking about her crush. (Bonus: YA book with an MC who doesn't want to have sex yet! I so rarely see teens in YA that captured me and my friends at that age.) All of her characters radiate life and become as dear as Lucy. Her friends and family are equally well represented, and we even get to know some of the adorable camp kids.
It's a very slice-of-life book while also dealing with the big issue of Lucy's mom's cancer. I thought Lord did a great job of getting into the head of someone whose family member is sick—and the family member, too. It's a realistic tightrope between mourning and normalcy, defensive humor and seriousness. But not all their discussions are about cancer, like some books; it's typical mother-daughter stuff too. Lord also approaches gender issues (Anna is trans and, in my very limited outsider opinion, empathically portrayed) and suicide with care and tact. Not to mention first loves and swoons, nervousness about the post high school future, and normal teenage shenanigans. Oh, and consent! Sweet, sweet consent.
I had a few nitpicks, because I'm me. It ends a bit abruptly (what happened though!?). Although I can see why Lord chose to cut it where she did, the part of me invested in these characters really wanted to know what happened down the line. I also found a few points somewhat unrealistic. Like, where are these teens getting alcohol? How do they let a counselor teach unsupervised swim lessons to a camper? What did Lucy ever see in Lukas? (Just kidding. But seriously.) Also I still have no idea what the title is.
However, overall it's a win. If you're looking for something heartfelt but also wickedly funny (because I can't do straight heartfelt, let's be real), Lord's books are always a win. The Names They Gave Us is a strong fourth novel from a powerful voice in young adult contemporary fiction.
in a sentence
The Names They Gave Us is a witty, heartfelt story about losing--and finding--faith, whether that faith is in God or in other humans.
Note: I received this copy from the author/publisher in exchange for an honest review. The price of the book and its origin in no way affected my stated opinions.