review
book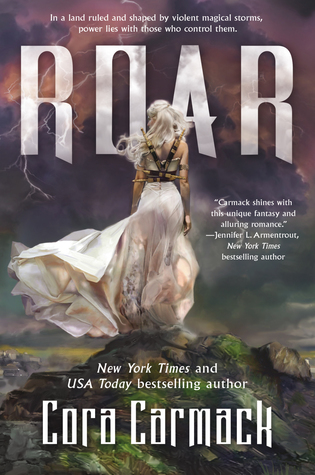 title:
Roar
author:
Cora Carmack
pages:
380
format:
Kindle ARC
buy it:
Amazon
|
B&N
|
Goodreads
rating:
2.5/5 (from hated to loved) or 4/10 (all books I've ever read)
recommended for:
Fans of
Throne of Glass
by Sarah J. Maas,
Frostblood
by Elly Blake, and other magic-driven fantasy romances.
In a land ruled and shaped by violent magical storms, power lies with those who control them.

Aurora Pavan comes from one of the oldest Stormling families in existence. Long ago, the ungifted pledged fealty and service to her family in exchange for safe haven, and a kingdom was carved out from the wildlands and sustained by magic capable of repelling the world's deadliest foes. As the sole heir of Pavan, Aurora's been groomed to be the perfect queen. She's intelligent and brave and honorable. But she's yet to show any trace of the magic she'll need to protect her people.

To keep her secret and save her crown, Aurora's mother arranges for her to marry a dark and brooding Stormling prince from another kingdom. At first, the prince seems like the perfect solution to all her problems. He'll guarantee her spot as the next queen and be the champion her people need to remain safe. But the more secrets Aurora uncovers about him, the more a future with him frightens her. When she dons a disguise and sneaks out of the palace one night to spy on him, she stumbles upon a black market dealing in the very thing she lacks—storm magic. And the people selling it? They're not Stormlings. They're storm hunters.

Legend says that her ancestors first gained their magic by facing a storm and stealing part of its essence. And when a handsome young storm hunter reveals he was born without magic, but possesses it now, Aurora realizes there's a third option for her future besides ruin or marriage.

She might not have magic now, but she can steal it if she's brave enough.

Challenge a tempest. Survive it. And you become its master.
in depth
Roar is another one of those cases where I'd give the first half and second half of the book very different ratings. It starts out promisingly. The overbearing guy turns out to be sleazy. There's a fascinating magical system based around semi-sentient magical storms that plague the land, forcing anyone who wants to live into the protection of isolated cities controlled by powerful Stormling mages. Cool, right? But princess Aurora/Rora/Roar has no magic, and allying with sleazy overbearing guy might be her only chance of keeping her kingdom. Instead, she slips off on an adventure with roving Stormhunters. Steal the heart of a storm and she can claim its magic--and her kingdom, without saying any unwanted I Dos. Seriously cool premise, and I love the girlpower!
So, the first half. There are a lot of twisty threads going on. Rora is being trained in storm hunting by a motley crew of ethnically diverse hunters, while trying to avoid getting killed. I geeked out over the storm magic system, and it was exciting to read about those first few battles against storms. There were also other POVs interspersed. Broody storm hunter Locke basically existed to fawn over Rora, but you did get some interesting info about storms from his perspective. Then we got tantalizing glimpses of happenings back at the castle--Rora's ex-fiance scheming in a dastardly manner and Rora's best friend trying to thwart him.
Then we hit the halfway mark. And the stuff I liked about the first half seemed to dither away by degrees. Rora and Locke spent way too much time running and wondering why they were attracted to each other (OMG how is it even possible I find his hot body hot!??111). Locke turned into a bunch of Alpha Male BS and the cool diverse side characters basically had no purpose other than Rora. The fiance and best friend's POVs seemed to vanish all of the sudden; seriously, I still have no clue why she even put them in there. And the buildup flattened out into a succession of nearly-identical storm battles, while all the cool stuff that happens in between is totally skipped over and occurs off screen!
I became increasingly indifferent through the second half. The writing is solid, but there's way too much emphasis on manliness. What is this, Sarah Maas? And people being stupid. I'm all for "I wish I weren't attracted! He's such an ass!" but "Why I like looking at sexy boy's abs?" gets so very old. There was a subplot about a magical baddie who can talk to storms that was really interesting, as well as some secrets about the world that were fun to read about. The twist at the end was pretty cool--although spoiler:

how did Rora only conveniently develop magical storm emotions when she left her castle? No one noticed this for 17 years? Really?

But by that point, I was yawning. I don't even remember how it ended.

he
All in all, there's a lot to enjoy in Roar. The magic system is really freaking cool. It was fascinating to read about all the different kinds of storms and their personalities, and there were some really cinematic storm battle scenes. But all the cool plot threads were frayed to pieces in the wake of what was basically just another Twilight romance in stormy clothing. So much wasted potential.
in a sentence
Roar is an NA romance dressed up as a fantasy, with a fascinating, unique magical system that is somewhat undermined by a stilted plot.
Note: I received this copy from an independent bookstore as a free prize. The price of the book and its origin in no way affected my stated opinions.