review
book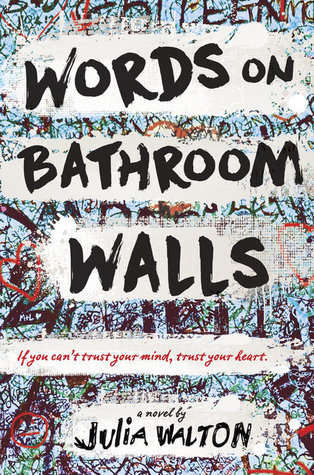 title:
Words on Bathroom Walls
author:
Julia Walton
pages:
304
format:
Kindle ARC
buy it:
Amazon
|
B&N
|
Goodreads
rating:
3.5/5 (from hated to loved) or 6.5/10 (all books I've ever read)
recommended for:
Fans of
All the Bright Places
by Jennifer Niven,
Goodbye Days
by Jeff Zentner, and other character-driven, voicey books about tough stuff.
CW: self harm, suicidal thoughts
Fans of More Happy Than Not, The Perks of Being a Wallflower, and It's Kind of a Funny Story will cheer for Adam as he struggles with schizophrenia in this brilliantly honest and unexpectedly funny debut.

Adam has just been diagnosed with schizophrenia. He sees and hears people who aren't there: Rebecca, a beautiful girl who understands him; the Mob Boss, who harasses him; and Jason, the naked guy who's unfailingly polite. It should be easy to separate the real from the not real, but Adam can't.

Still, there's hope. As Adam starts fresh at a new school, he begins a drug trial that helps him ignore his visions. Suddenly everything seems possible, even love. When he meets Maya, a fiercely intelligent girl, he desperately wants to be the great guy that she thinks he is. But then the miracle drug begins to fail, and Adam will do anything to keep Maya from discovering his secret.
in depth
First, I'll tell you that I really enjoyed this book. I'm not sure that it has the staying power of Perks of Being a Wallflower, and I certainly didn't feel it as deeply, but it's a darkly funny, poignant, clever book with a lot of heart. I'd sort of forgotten about it when I pulled it up on my Kindle, and I was hooked by the first chapter. Adam's voice brims with both earnestness and snark. I felt like I knew him instantly. I cared so much about him that it was difficult to take breaks (even for food), because I needed to know what happened next.

Not in a mystery kind of way. There are no gimmicks here, no aha! moments where so-and-so is actually a hallucination, zomg. It's just a really heartfelt book about a teen struggling with a chronic, debilitating illness, and learning that he still deserves--and can have--a full life.
But it's not saccharine. Adam doesn't pull any punches. He's blunt, vulgar at times, judgmental at others. He's kind of an ass sometimes. He's also swoonily sweet at others. And he loves to bake. This complexity shines through in the other characters--which is good, because it's very character driven. Maya and Dwight, his friends, both have distinct personalities and motivations, although I wish Dwight was around more. Maya is an abrasive character who doesn't like sappy stuff, and I loved her for it. She calls him on his BS. Even the school mean boy isn't a total evil dickwad, but a believable, realistic dickwad.
Family dynamics are such a huge part of this book, and so well done. Despite having a loving mother and stepfather, Adam doubts his own worth. His brain tells him that his stepfather hates him. Thinks he's crazy (his step-grandma definitely does). He worries that he's ruining his mother's happiness. He lashes out at them, and at himself. And his mom and stepfather react like humans--imperfectly. There are missteps and miscommunications, but you get to see everyone grow and learn and come to understand each other better.
Interestingly, one of the main characters is never on the page. The story is written in Adam's letters to his therapist; he sees the guy every week and spends an hour in total silence, then speaks in writing. Adam's one-sided conversation with his therapist reveals so much about his changing view of mental illness and himself. (Similarly, his conversations with his hallucinations reveal different aspects of his soul.) The epistolary format builds tension and allows for Walton to explore the idiosyncrasies of Adam's internal monologue in a way that straight narrative would not. Everything is Adam's interpretation of events--not necessarily reality--and the reader must sift through to find the truth.
The mental illness rep is dicey. If you want my full psychobabble, scroll down below the rating. In short: Walton's description of schizophrenia is somewhat exaggerated, given that visual hallucinations as persistent and talkative as Adam's are extremely rare. However, she approaches therapy, medication, and managing chronic mental illness with a compassionate, realistic bent, so that part helped to level out the somewhat sensationalized version of the disorder. Oh: love doesn't fix everything. THANK YOU DEAR LORD.
Okay, there's my soap box. When I read books about schizophrenia, I basically have to pretend it's a sort of special case or a different thing. Because there's a lot to enjoy about this book, and its compassion towards MI and its effects was palpable. It's witty, heartfelt, and cleverly written. Just know that it's not a totally accurate representation of schizophrenia, and then you can enjoy all the things it does very well.
in a sentence
Words on Bathroom Walls is a darkly witty, poignant, compelling account of a boy dealing with mental illness--and also school, dating, and life.
Note: I received this copy from the author/publisher in exchange for an honest review. The price of the book and its origin in no way affected my stated opinions.
for more on the portrayal of schizophrenia
On one hand, the book shows that medication and therapy aren't bad things. I've also known therapists whose teen clients refused to speak, although perhaps not as long as Adam does. I also, personally, liked how flippant Adam is. He calls himself crazy. He doesn't sugarcoat his issues. Not everyone would like this! "Crazy" is really hurtful for some people. But, many people with MI have owned it the way other groups have owned other slurs; many others see "crazy" as something different from MI, and part of their recovery is accepting that they aren't "crazy." I like that Walton deals with this issue directly.
On a less good note, say it with me: human visual hallucinations that talk and are persistent are extremely rare. Even in people with schizophrenia. In fact, auditory hallucinations are by far the most common type. Also, someone hallucinating as severely as Adam would probably also be severely delusional and disorganized. The negative symptoms of the disorder (cognitive impairment, lack of emotional expression, lack of speech, lack of motivation) were very underrepresented in this book, given that they're the most persistent symptoms of schizophrenia and the ones that medication helps with the least. However: I was able to overlook these things and like the book in part because Walton's portrayal feels (to me) exaggerated but not harmful.