review
book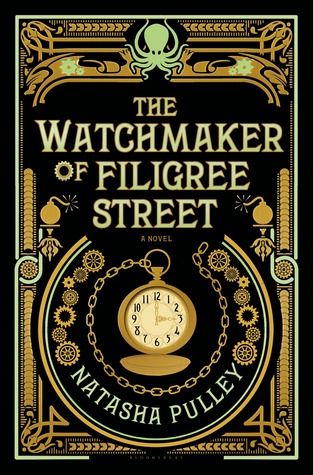 title:
The Watchmaker of Filigree Street
author:
Natasha Pulley
pages:
318
format:
Paperback
buy it:
Amazon
|
B&N
|
Goodreads
rating:
3.5/5 (from hated to loved) or 7/10 (all books I've ever read)
recommended for:
Fans of
Jonathan Strange and Mr. Norrell, Neverwhere
by Neil Gaiman, Cat Winters anything, and other magical histories.
1883. Thaniel Steepleton returns home to his tiny London apartment to find a gold pocket watch on his pillow. Six months later, the mysterious timepiece saves his life, drawing him away from a blast that destroys Scotland Yard. At last, he goes in search of its maker, Keita Mori, a kind, lonely immigrant from Japan. Although Mori seems harmless, a chain of unexplainable events soon suggests he must be hiding something. When Grace Carrow, an Oxford physicist, unwittingly interferes, Thaniel is torn between opposing loyalties.

The Watchmaker of Filigree Street is a sweeping, atmospheric narrative that takes the reader on an unexpected journey through Victorian London, Japan as its civil war crumbles long-standing traditions, and beyond. Blending historical events with dazzling flights of fancy, it opens doors to a strange and magical past.
in depth
My friend convinced me to read this book with two words: clockwork octopus.
Okay, review over. Just kidding--but, seriously, you know a book with a clockwork octopus (named Katsu!) is going to be full of steampunk whimsy. Watchmaker is that and more. It's both whimsical light steampunk Victorian and serious treatise on culture, xenophobia, and human vice. It satisfies without pandering to the reader, and surprises until the very end.
Stay with it, because it begins slowly. Well, it begins with a bang, actually, in the form of an explosion in a London building, but then it takes its time ramping up. The dragginess almost got to me, but I'm glad I didn't give up. Just like clockwork, the plot is intricate, coming together piece by tiny piece until finally there are enough cogs and wheels to tick it forward. Pulley's writing, with its calculated beauty and precision, must be savored. The final rating would definitely be higher if I only considered Pulley's literary merits. I'm still waffling between 3.5 and 4.
The characters are a mix of absurd and endearing that reminds me very much of Gaiman's Neverwhere, but with real darkness to them. Our hero, Thaniel, has a similar self-deprecating obtuseness. You sort of just want to hug him, except when he's being stupid and callous. Grace is a forward-thinking female physicist with remarkable pragmatism, sometimes to a fault. And Keita Mori--what a perfect, complicated character. He's generous and bristly, quietly calculating, selfish and masterfully manipulative, broken and pleading. I loved and hated him by turns; most importantly, I wanted to know more about him. Of course, my favorite is Katsu, the clockwork octopus who steals socks and seems to have more of a personality than his creator lets on. I really wanted more of Matsumoto, Grace's friend. He and Grace got a little short-changed.
The plot is densely layered. Pulley weaves her invented fabulism into the historical reality of 1800s London, beseiged by the threat of Irish nationalist bombings. Thaniel becomes sucked into the investigation when a bomb goes off in his building and the authorities suspect Mori, master clockmaker. Add in Grace, who needs to marry to secure her future as a physicist, and who proposes a business arrangement to the poor Thaniel: a marriage of practicality, her house and money for her freedom.
The three become entangled in increasingly dangerous way as Thaniel is sucked into Mori's cult of personality and Grace becomes increasingly suspicious that Mori, who knows things it's impossible for him to know, has darker plans than Thaniel realizes. Pulley keeps you guessing until the end, and manages to salvage some of the happiness she destroys. There's intrigue, plotting, terrorism, gay representation, and just a touch of magic.
Watchmaker is the perfect novel for fans of alternate history. Pulley's mastery of language, character, and historical reality creates a rich story that sucks you into its world. It demands some patience and work from a reader, but it's effort well rewarded. By the end, I was thoroughly entranced with the characters and aching for more.
in a sentence
The Watchmaker of Filigree Street is an entrancing, complex historical fantasy that draws you in and leaves you mystified.
Note: I received this copy from the publisher in exchange for an honest review. The price of the book and its origin in no way affected my stated opinions.