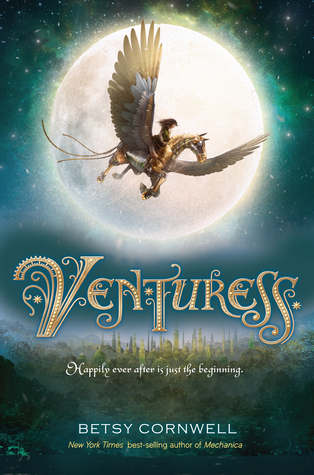 title:
Venturess
author: Betsy Cornwell
pages: 320
format: Paperback ARC
rating: 4/5 (from hated to loved) or 7/10 (all books I've ever read)
recommended for: Fans of Cruel Beauty by Rosamund Hodge, the movie Penelope, and other clever fairy tale retellings.
Young inventor Nicolette Lampton is living her own fairy tale happy ending. She's free of her horrible step-family, running a successful business, and is uninterested in marrying the handsome prince, Fin. Instead, she, Fin, and their friend Caro venture to the lush land of Faerie, where they seek to put an end to the bloody war their kingdom is waging. Mechanical armies and dark magic await them as they uncover devastating secrets about the past and fight for a real, lasting happily-ever-after for two troubled countries—and for themselves.
in depth
Even though Mechanica hit the NYT bestseller list, I'm still shocked how few people have read it. It's the feminist steampunk Cinderella of my dreams and though it stands alone well, I was so delighted when Betsy announced a sequel! Venturess takes on Nick's life after the happily-ever-after, full of friendships, sea journeys, faerie wars, and startling new magic. While I didn't love Venturess quite as much as Mechanica, it was a sequel that both satisfied my craving for Nick's world and left me drooling for a part three. (Also there's a minor character in it named after me so, ya know, I'm a little biased. I'll let you guess who!)
Betsy's imagination is what drew me to her first book, and it's showcased even more sharply here. She invents a world of agender faeries who marry polyamorously in large friend-families and wish their ruler into being. She delves more into the secrets of Ashes, the strange substance that gives life to Nick's living clockwork creations--like Jules, the horse, who is my favorite character and who plays a huge role in Venturess. (I'm a little bitter about a part of the Ashes plot because it seemed to cheapen one of my favorite elements of Mechanica, but I can't go deeper without spoiling.)
The original trio is back, and is the backbone of this book. Nick is now a thriving inventor and budding diplomat. Caro is in love with a lovely girl and feisty as ever. Finn grows from carefree, impulsive prince into a thoughtful monarch. The friendship between the three is compelling, growing into something that is part friendship, part family, part romantic, all tugging at the heartstrings. Don't expect a romance though; I was a bit disappointed at the lack of one, but mostly because I'm a hopeless romantic sap.
The new faces are a mixed bag. There's one key character who's marvelously cold and complicated, but I can't say who. I also loved the sea captain, but he plays such a disappointingly small role. The main "villain" could also use a little more depth, and there's an orphan girl who's introduced and then vanishes for the whole book. While the characters could use a little shuffling, the main players are portrayed with a liveliness and emotion that compels you to care about them.
Mechanica alludes heavily to a war brewing with the land of Faerie, which has been oppressed by Nick's kingdom for years. Venturess doubles down on the political intrigue: the king is dead, the nation is in chaos, and dastardly nobles want to take advantage to start a war and conquer Faerie once and for all. Some of the events were a bit thin or convenient, but I was impressed with how Betsy handled issues of race, sexuality, discrimination, genocide, war, friendship, and family with a mix of delicacy and unflinching frankness. She inserts moral complexity into the plot without losing the whimsy that made Mechanica so breathtaking. The plot is rife with backstabbing, battle, and scheming; it keeps you on your toes until the explosive, heart-wrenching end.
While there were elements that fizzled for me, Venturess is still a solid follow-up to the unconventional Mechanica. It retains the whimsy and sharp prose that made the original so good, while extending the story into thrills beyond happily ever after.
in a sentence
Venturess is a thrilling fairy tale adventure that expands the whimsy, humor, and unconventionality of its predecessor into more complex territory.
Note: I received this copy from the publisher in exchange for an honest review. The price of the book and its origin in no way affected my stated opinions.
meet the author






Hi! I'm Betsy Cornwell, an American writer and teacher living in a stove-heated cottage in west Ireland, together with my horse trainer spouse, a small herd of dairy goats, and an increasing number of other animals. I write

fiction

and

nonfiction

and blog about Irish folklore, travel, wild food, goats (of course!), homesteading, and growing up.