review
book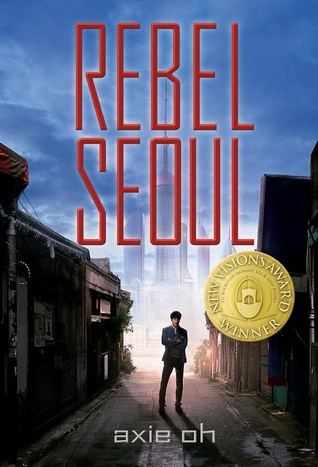 title:
Rebel Seoul
author:
Axie Oh
pages:
400
format:
Paperback ARC
buy it:
Amazon
|
B&N
|
Goodreads
rating:
4/5 (from hated to loved) or 7/10 (all books I've ever read)
After a great war, the East Pacific is in ruins. In brutal Neo Seoul, where status comes from success in combat, ex-gang member Lee Jaewon is a talented pilot rising in the ranks of the academy. Abandoned as a kid in the slums of Old Seoul by his rebel father, Jaewon desires only to escape his past and prove himself a loyal soldier of the Neo State.

When Jaewon is recruited into the most lucrative weapons development division in Neo Seoul, he is eager to claim his best shot at military glory. But the mission becomes more complicated when he meets Tera, a test subject in the government's supersoldier project. Tera was trained for one purpose: to pilot one of the lethal God Machines, massive robots for a never-ending war.

With secret orders to report on Tera, Jaewon becomes Tera's partner, earning her reluctant respect. But as respect turns to love, Jaewon begins to question his loyalty to an oppressive regime that creates weapons out of humans. As the project prepares to go public amidst rumors of a rebellion, Jaewon must decide where he stands—as a soldier of the Neo State, or a rebel of the people.
in depth
This book had some really great action and characters, and comparing to Korean action dramas is a spot-on apt description. I really loved the history of this book, too, and the descriptions of the various wars and maneuvering that got us to the political climate described in this book. It allowed the story to have some great focus and commentary on nationalism, pride, and culture.
The characters were all interesting, and Jeawon carried as a protagonist very well. I loved his inner monologue and his struggle with grief and his complicated relationship with his past and his old friends. The side characters were immensely interesting as well, and each of them could have easily had their own whole book written about them.
On the other hand, that's kind of a problem I had with the book, too. Each of the side characters....well, it felt like they were living their own book, their own storyline separate from Jeawon's, and they have more physical proximity to each other than influence over each other. It made many parts of the plot feel super disjointed, as if every time I put down the book and picked it up again I was suddenly reading a new short story or something. This was especially a problem with Jeawon and Tera's romance; I didn't really feel them as a pair because they had so little impact on each other. Jeawon had his storyline with the gangs and his father and his issues, Tera had her storyline with her being the product of an experiment and identity crisis. But the two lines...well, didn't really affect each other. Tera and Jeawon existed in the same room together a few times, then went off on their own adventures, and then at the end of it they're in "love." Mhm, sure.
Overall, I did really love the ideas and elements of this book, and it's got some rich details and very striking lines in it. It's worth the read if the summary caught your interest, for sure. But I do wish it had been streamlined a little better.
Note: I received this copy from the publisher in exchange for an honest review. The price of the book and its origin in no way affected my stated opinions.