review
book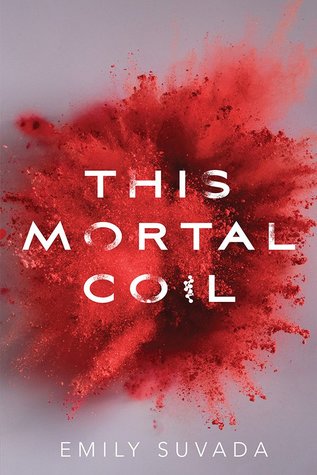 title:
This Mortal Coil
author:
Emily Suvada
pages:
425
format:
Paperback ARC
buy it:
Amazon | B&N |
Goodreads
rating:
5/5 (from hated to loved) or 8.5/10 (all books I've ever read)
recommended for:
Fans of the show
Dark Angel,
cyberpunk stuff like
The Matrix
and Scott Westerfeld's
Uglies,
and other really clever techy sci-fi. Or probably
Resident Evil.
Catarina Agatta is a hacker. She can cripple mainframes and crash through firewalls, but that's not what makes her special. In Cat's world, people are implanted with technology to recode their DNA, allowing them to change their bodies in any way they want. And Cat happens to be a gene-hacking genius.

That's no surprise, since Cat's father is Dr. Lachlan Agatta, a legendary geneticist who may be the last hope for defeating a plague that has brought humanity to the brink of extinction. But during the outbreak, Lachlan was kidnapped by a shadowy organization called Cartaxus, leaving Cat to survive the last two years on her own.

When a Cartaxus soldier, Cole, arrives with news that her father has been killed, Cat's instincts tell her it's just another Cartaxus lie. But Cole also brings a message: before Lachlan died, he managed to create a vaccine, and Cole needs Cat's help to release it and save the human race.

Now Cat must decide who she can trust: The soldier with secrets of his own? The father who made her promise to hide from Cartaxus at all costs? In a world where nature itself can be rewritten, how much can she even trust herself?
in depth
If you didn't catch my slew of Twitter gushing, then I'll summarize for you: this book is astounding. Suvada combines a brutal Walking Dead-style dystopia with the cyber-glam of Scott Westerfeld's Uglies and the sci-fi ruthlessness of Dark Angel (old TV show, extra points if you've seen it). In short? Breathtaking.
I have very little to complain about it, so I'll get it out of the way. It'd be too spoilery to go into detail, but suffice to say there's a plot twist regarding the romance that I think didn't get enough emotional impact. It's like . . . okay, we're just cool with this now? Suvada brought it back nicely, but I wavered for a minute there.
Alright, complaints over. The rest of this book is sheer breakneck explosiveness (no pun intended). Catarina Agatta lives in a world where you can change virtually anything about yourself with a panel on your wrist, and where a digital virus has left millions of people flesh-hungry time bombs ready to explode into blood clouds. Suvada renders this post-apocalyptic landscape with a loving brutality that will chill you.
I almost wish there were more encounters with the virus zombies, but this is no World War Z. The plot that really packs a punch surrounds a quasi-governmental organization that stole Cat's dad--and the antidote for the deadliest virus the world has ever seen. Enter adorable super-soldier Cole and we're in business. Cat and Cole are pretty archetypal--brilliant cold girl genius and secretly softie hardcore fighter boy--but with enough dimension to feel real anyway.
I can't really prepare you for the mindf*ck that is this plot. First off, Suvada has a command of the science that makes the near-future world utterly believable; and I know enough about genetics to find the technobabble fascinating but not enough to find accuracy holes, so it was a happy medium.
Second off, forget what you think you know. Suvada lures you into trap after trap with her storytelling, and pulls the rug out from under you again and again and again. The more Cat learns about the virus, the more she realizes the dark underbelly of the government, her own father, and even herself. The series of reveals towards the end is an explosive daisy chain of OMGs that sets up what I know will be a mind-blowing sequel.
If you're looking for a book you'll have to white-knuckle it through, that packs an emotional punch and is also just damn thrilling, that's just realistic enough to chill, then get this book. It's an under-hyped gem that blows better-known dystopians like Divergent out of the freaking ocean.
in a sentence
This Mortal Coil is a brutal masterpiece of storytelling; its characters have emotional staying power and its plot will keep you guessing until the last period.