review
book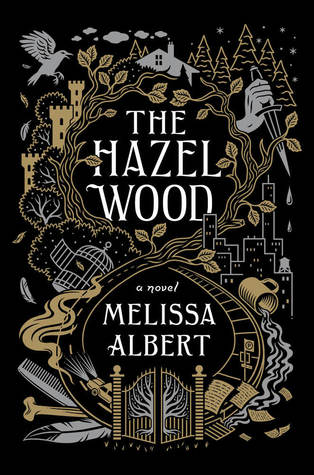 title:
The Hazel Wood
author:
Melissa Albert
pages:
368
format:
Paperback ARC
buy it:
Amazon | B&N |
Goodreads
rating:
4.5/5 (from hated to loved) or 8/10 (all books I've ever read)
recommended for:
Fans of
The Reader
by Traci Chee,
Uprooted
by Naomi Novak, and other gorgeous, lush fairy/folk tales with a twist. Or something dark and glittery and lovely.
Seventeen-year-old Alice and her mother have spent most of Alice's life on the road, always a step ahead of the uncanny bad luck biting at their heels. But when Alice's grandmother, the reclusive author of a cult-classic book of pitch-dark fairy tales, dies alone on her estate, the Hazel Wood, Alice learns how bad her luck can really get: her mother is stolen away―by a figure who claims to come from the Hinterland, the cruel supernatural world where her grandmother's stories are set. Alice's only lead is the message her mother left behind: "Stay away from the Hazel Wood."

Alice has long steered clear of her grandmother's cultish fans. But now she has no choice but to ally with classmate Ellery Finch, a Hinterland superfan who may have his own reasons for wanting to help her. To retrieve her mother, Alice must venture first to the Hazel Wood, then into the world where her grandmother's tales began―and where she might find out how her own story went so wrong.
in depth
The Hazel Wood is one of 2018's most hotly anticipated debuts, for good reason. It's a viciously dark fairy tale that reads like a grimdark version of Grimm, or a cross between Once Upon a Time and Shutter Island, with flavors of Neil Gaiman. While I have my complaints, I still relished Albert's debut, and immediately hit the pre-order button on a hard copy.
The best quality of this book is Albert's prose. It's like a fine desert, lush and complex and multifaceted, without being overly sweet or flowery. She turns a phrase on a knife edge, concocting descriptions that are so unusual and perfect you could cry wishing you'd wrote them yourself. Her prose is foundation for a thrilling, darkly glittering atmosphere that claws under your skin and trickles down your spine.
I'll admit, I wish there were more stories of the Hinterlands embedded in the text. There's a real missed opportunity for short italicized fairytales slotted between chapters. But we get enough of them that I felt drawn into the Hinterland world, a shadowy forest of black-eyed ice queens and twice-killed maidens, beings that feed on fear and twisted versions of reality. It's all delightfully strange.
As is Alice herself. A girl haunted by inexplicable bad luck, with explosive anger issues and a flighty mother. Her character is instantly compelling and a perfect reflection of the half-fantasy-half-deadly Hinterlands. She's paired with Finch, Gansey-esque fairytale-obsessed rich boy with a swoony smile, but their journey doesn't lead quite where you'd think. Punctuated by near-murders and liars, eerie bargains and overgrown castles, it's a seamless adventure from start to finish. I wanted it to be a bit more violent and grotesque, but hey, I have a type.
While it could have ended a couple chapters before it did, The Hazel Wood still has a satisfying close. Moreover, you leave it with that ineffable sense of the magical that so few books can create. It's as much an experience as a story, and one I can't wait to dive into again.
in a sentence
The Hazel Wood is a twisted thriller wrapped in a dark fairy tale, and delivers on both counts.