review
book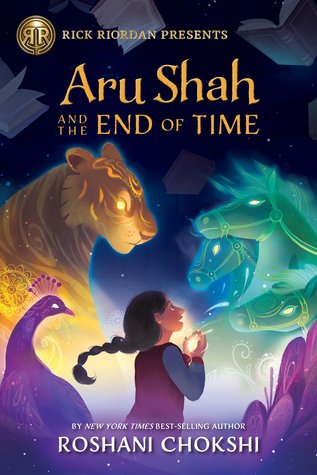 title:
Aru Shah and the End of Time
author:
Roshani Chokshi
pages:
368
format:
Paperback ARC
buy it:
Amazon | B&N |
Goodreads
rating:
3.5/5 (from hated to loved) or 6.5/10 (all books I've ever read)
recommended for:
Fans of
Percy Jackson
series by Rick Riordan,
The Gauntlet
by Karuna Riazi, and other fantastical middle grade adventures set in a backdrop of myth and legend.
Twelve-year-old Aru Shah has a tendency to stretch the truth in order to fit in at school. While her classmates are jetting off to family vacations in exotic locales, she'll be spending her autumn break at home, in the Museum of Ancient Indian Art and Culture, waiting for her mom to return from her latest archeological trip. Is it any wonder that Aru makes up stories about being royalty, traveling to Paris, and having a chauffeur?

One day, three schoolmates show up at Aru's doorstep to catch her in a lie. They don't believe her claim that the museum's Lamp of Bharata is cursed, and they dare Aru to prove it. Just a quick light, Aru thinks. Then she can get herself out of this mess and never ever fib again.

But lighting the lamp has dire consequences. She unwittingly frees the Sleeper, an ancient demon whose duty it is to awaken the God of Destruction. Her classmates and beloved mother are frozen in time, and it's up to Aru to save them.

The only way to stop the demon is to find the reincarnations of the five legendary Pandava brothers, protagonists of the Hindu epic poem, the Mahabharata, and journey through the Kingdom of Death. But how is one girl in Spider-Man pajamas supposed to do all that?
in depth
I just read Percy Jackson and the Lightning Thief for the first time a month ago. It was everything that 12-year-old C.J. would have adored. Gods. Mythical figures. Kids my age being badass demigods and saving the world. As the first in Rick Riordan's new imprint, Aru Shah follows the tongue-in-cheek tone and demigod formula of Percy, but carves out a space all its

own.

12-year-old C.J. is so jealous.
Chokshi brings the wit and sweeping adventure of her young adult offerings to a younger tale that will delight and captivate kids and adults alike, set against the backdrop of early Indic lore. I was familiar with many of those legends, but much was new to me too. Chokshi does an excellent job of acquainting her readers with the legends while injecting her own cheeky modern twists, like the asura who steals souls in the beauty shop, or the Night Bazaar layered over a Costco. She also doesn't talk down to her reader; there are words and concepts untranslated, and I can only imagine many easter eggs for people who have grown up in Hindu culture.
As with any good middle grade, the characters steal the show. Aru is Indian (at least half Gujarati, on her mother's side), spunky and relatable from page one. She doesn't quite fit in, her mom is working all the time, and all she wants to do is fit in with her wealthy classmates, even if it means crafting wild half-truths. She's the kind of girl who wears Spiderman pajamas and takes no prisoners. Mini is my soul twin, half-Indian and half-Filipino, nerdy and know-it-all-y, afraid of getting in trouble but also fiercely honorable. Aru's brazenness and Mini's logic temper each other and make for a perfect hero duo. Plus there's a snarky pigeon named Boo, which just speaks for itself.
Allowing for the fact that I'm quite a bit older than the target demographic, it goes without saying that some of the plot points felt predictable, and there was a little too much exposition that took place in stilted dialogues. That said, Chokshi created an exciting quest reminiscent of ancient myths: a race to find three keys to the underworld, an enigmatic demon stalking the heroes, magical objects and supernatural puzzles. Chokshi's lush descriptions render Aru's world in vivid color.
I'd recommend this book to a young fantasy lover without hesitation. Like Percy Jackson and Karuna Riazi's The Gauntlet before it, Aru Shah introduces a charming heroine faced with zany trials and old myths become new. It's a quick, fun read that will have many kids dashing to the library for copies of the Mahabarata and Ramayana. And for kids who already live on those stories, I can see it being a fresh, loving mirror of a familiar world.
in a sentence
Aru Shah and the End of Time is a charming, cheeky twist on early Indic folklore centered around two Indian girls with a lot of cleverness and heart.