So a little while back I was having kind of a downer day and then I realized that there were a TON of holiday-themed romances dropping on NetGalley and...let's just say this still isn't the last post of "Holiday Themed Romance Mini-Reviews" you guys are going to get.
title: A Way Back Home
author: Alison Sherlock
pages: 470
format: eARC
rating: 3/5
topics: Holiday, Christmas
After losing her friend and surrogate grandfather, Skye Jackson finds out she's been left partial ownership of a gamekeeper lodge at Willow Tree Hall, the ancestral home of the Earl of Cranley. The other half of the lodge belongs to the Earl's second grandson, Will, and after a series of mishaps, Skye finds herself stuck at Willow Tree Hall and making plans with Will to renovate 'their' lodge.
It...was the third book in a series. And it shows. I feel like most of the page time was given over to the shenanigans with the characters introduced in previous books, to the point that Sky and Will barely spent any time together (or did any renovation work) even halfway into the book! I got to know everyone except the two leads, who wound up rather dull as a result. Plus I just couldn't get behind Skye as a character. I liked all of her potential and a lot of her attributes. However, in order to make the plot work, she had to make a lot of very weird, very poor decisions that felt out of step with the rest of her character. Between that and the long stretches of time she spent just quietly watching other characters, she felt more like a plot device than a person.
---
title: Snowy Nights at the Lonely Hearts Hotel
author: Karen King
pages: 284
format: eARC
rating: 2/5
topics: Holiday, Christmas, M/M Romance (secondary characters)
Workaholic Saffon is planning to spend the Christmas season partying with her friends, until she gets a call for help from her sister. Hannah is stuck out of the country and begs Saffron to host the annual Christmas dinner for single parents. Saffon agrees, and winds up working very closely with the single father next door to make the party a success.
This one was pretty tedious, as nothing really happened. There was a lot of minutia about getting the party together, about Saffon's friends, about all sorts of thoroughly mundane stuff, but...that was it. Not a lot of drama or high emotion, and Saffon and Logan's relationship is pretty low-key early-dating stuff that isn't
bad
, it's just kind of dull. All the minor threads that could have wound up being conflict were just teasers instead, quickly wrapped up and forgotten about, and the whole thing just
dragged
. Especially the ending, which rivaled
Return of the King
for having too many endings.
---
title: A Holiday by Gaslight
author: Mimi Matthews
pages: 175
format: eARC
rating: 5/5
topics: Holiday, Christmas
Sophie is the daughter of an impoverished peer and Edward is a nouveau riche businessman trying to court her. From the outside it seems like an arrangement typical of the time: he wants the respectability of being close to a title, she wants money to keep her family afloat. Each thinks that's what the other is after, even though both of them
really
want a loving marriage. So of course their courtship is a stiff and formal flop. The book opens with Sophie ending things, only to be pressured into reconsidering and giving Edward another chance. But with one caveat: no more distant formality. She invites him to the family's holiday house party and by the end of the week, they'll either be engaged or part ways for real.
There was a
lot
going on in such a short book, so many small character things that were conveyed with a beautiful economy that made the story feel rich. Sophie herself is a great character right from the get-go; she's got a strong love for her family and a practical streak but she knows how to set boundaries and doesn't let practicality mean 'no dreams.' Edward is frikkin adorable with how hard he tries to fit into Sophie's world, not realizing that all his attempts at being proper is what's putting her off. Sophie's family is great, too, and I loved the dynamic between Sophie and her also-practical mother, contrasted with her father and her sister who are both frivolous. But even those characters have depth to them, and oh lordy the scene where her father explains why he's so obsessed with the house actually made me stop reading and have to process for a minute. Nothing is really delved into very deeply, but you can still tell that all these big character motivations are going on just under the surface, touched on when they need to be for the plot but not distracting when they don't. It's a really great example of how to have vibrant side characters in a novella and I loved it.
---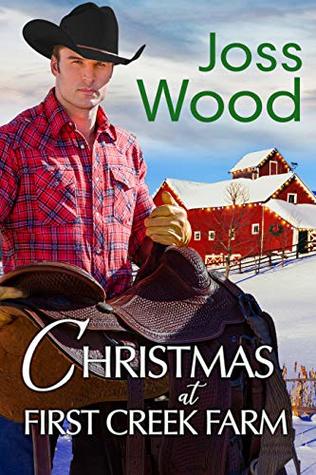 title: Christmas At First Creek Farm
author: Joss Wood
pages: 203
format: eARC
rating: DNF
topics: Holiday, Christmas, Cowboy
Due to some family history, a large ranch in Texas is shaped like a donut, with a small circle of land that just happens to contain all the water belonging to a different family. When the matriarch of that family dies, her kids decide to sell First Creek Farm back to Donovan Ranch, but Fia decides she just
must
check the place out before it's sold.
I...could not get into this book. Both characters are absurdly wealthy and hot, with Fia even being a world class model (literally). There's still some appeal for me when only one character is rich, but both of them? ...meh? Especially when Fia keeps going on about her family's expansive South African tourist empire which I have....feels about. Add to that the fact that Gib is a huge asshole and Fia actually has no idea why she's determined to spend time at First Creek and this gets a big old shrug from me.
I will say that I did like the commentary around Fia's modeling career, the acknowledgement that she was very lucky genetically
and
also that it's a hard job that takes a whole lot of physical work. And her grief over her mother's death was sympathetic and compelling. It's just everything else that put me off.
---
Note: I received these copies from the author/publisher in exchange for honest reviews. The price of the books and their origin in no way affected my stated opinions.