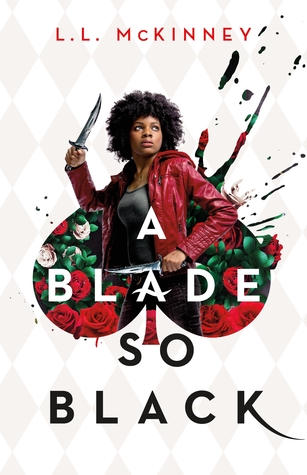 title: A Blade So Black
author: L.L. McKinney
pages: 384
format: Hardcover
buy it: Amazon | B&N | Goodreads
rating: 3.5/5
Genre: Urban Fantasy
Topics: Retelling, Monster
CW: Death, Racism, Violence
3.5 lemons - I liked it a lot!
Alice comes to Atlanta
If you're an Alice junkie like me, you flipped the moment you saw Elle's tweets about her upcoming Alice reimagining. A BLADE SO BLACK adds some sass and bite to the Alice canon. Whereas A.G. Howard's SPLINTERED was a dark, twisted parallel through cracked glass, A BLADE SO BLACK abstracts Wonderland from its basic elements into a dreamscape full of Nightmare monsters, verse-spitting prophets, and slayers. Alice is a black girl from Atlanta dealing simultaneously with grief over her dead father and the responsibilities of hunting Wonderland escapees--without breaking curfew. Alternately poignant, action-packed, and funny, it's a cinematic thrill ride with just enough whimsy. The pacing is choppy, but I enjoyed it all the same.
It's All About Timing
The main issue I have with this book is the beginning. We get a prologue of Alice meeting her mentor Hatta, then it skips to her first hunt of Nightmare monsters,
then
it skips to months later when she's a more seasoned slayer.
The extra time jumps made it hard to get my footing.
Either give me the new-world-just-learning-how-stuff-works, or give me the time jump with some key flashbacks. However, it picked up pace once we settled in a timeline--and fast. Elle smacks you in the face with drama: Nightmares are invading Earth, Alice and the humans are the only ones who can kill them, and an evil Black Knight is back from the dead.
Alice is frantically trying to jump into Wonderland to kill Nightmares before they cross, then running back to Earth to get home before her mother whups her butt. Cortney is there to cover while Alice is missing, but mama isn't stupid. I loved the tension between saving the world and being a good daughter, with both being incredibly important. It reminded me a lot of THE EPIC CRUSH OF GENIE LO--
teenagers with super destinies are still, at the core, teenagers.
It also adds another layer of suspense to the plot.
A Little Less Wonderland, A Little More Something
This isn't your grandma's Alice retelling. Elle keeps some of the skeleton of Wonderland, but largely makes it her own. It was a little disappointing not to see more direct parallels. Honestly, that might have been my biggest disappointment.
The Wonderland elements are largely incidental.
Elle could have created her own parallel dreamscape world and given it her own name, made up Nightmare monsters, and very little about the book would be different. It's a shame, because the parts Elle does draw from the source material are so clever. Some of the recreations are super magical, such as using Carroll's love of nonsense poetry and creating prophets who make potions and prophecies from riddles. Others are just hysterical whimsy, like the Russian Tweedlanovs. I wanted more solid footing to justify why this was a retelling and not just an original urban fantasy.
Part of the problem might be the writing. On one hand, the voice was fresh and sharp. The dialogue could have been lifted from real teenagers having conversations, and Alice's voice is unapologetically black.
The fight scenes were also great. I could feel every hit
, and it made me want to see this on screen. The problem was descriptions. On one hand, the Nightmare monsters were depicted with loving detail; they dripped venom off the page. On the other hand, the scenery, especially in Wonderland, felt pretty sparse. I didn't have a great sense of where we were at any given point. What was this dreamland I'm supposed to care so much about? Who are its people? I felt very disconnected from it. Honestly, this is a case where my rating would probably be very different, except certain elements struck me enough to entertain.
Gimme The Slashy Stuff
Problems aside, I'd recommend this book without reservation. It's a quick and explosive read. I devoured it in about two days after a long reading slump, and it smashed right through my ennui. Alice is an endearing, believable heroine. I was rooting for her from page one. With her friends and magical mentors, it felt so very Buffy that I was having pleasant 90s flashbacks. I can only hope that we'll get more solid grounding in Wonderland next book, because this series has a lot of potential to rock the YA landscape.
My thoughts overall
A whimsical thrill-ride that reinvigorates urban fantasy, with a diverse cast and cinematic feel.
Will I read this author again? Definitely
Will I continue this series? After that cliffhanger, no question
More Reviews for A Blade So Black
Cornerfolds -
ARC Review
Utopia State of Mind -
Review and Blog Tour
Note: I purchased this copy. The price of the book and its origin in no way affected my stated opinions.